South Dakota Birds and Birding - Home Page
South Dakota Birding"Hotspot"
Beaver Creek Nature Area
Photo Location #1 -- Suspension Bridge
The area around the suspension bridge crossing Beaver Creek can offer some great birding. As you first approach the bridge from the northwest, you'll pass through a small area of large trees. These often hold Rose-breasted Grosbeaks, Indigo Buntings, and other songbirds in spring and summer. As you approach the bridge and the trail takes a sharp right turn, a thick shrubby area is found right next to the trail. These shrubs, as well as shrubs that line part of the creek (particularly on the far side of the bridge) can offer yet more fantastic birding for songbirds. From spring through fall you'll nearly always find Gray Catbirds, Yellow Warblers, and Northern Cardinals here, but during migration, you may find one of several different warbler species hanging out in the shrubs. Wilson's Warbler, Magnolia Warbler, Chestnut-sided Warbler, and Golden-winged Warbler are just a few of those I've seen in this location. In all seasons you may see Cedar Waxwings along the creek, while a pair of Belted Kingfishers is often found in this area.
The creek itself is quite shallow and depending on water levels, usually has some fairly obvious sandbars that are exposed. These can sometimes be surprisingly good for shorebirds. Spotted Sandpipers seem to nest around here, while I've also found other shorebird species during migration. You may see Great Blue Heron or Green Heron along the creek, while Wood Ducks are often on the creek itself. Always be on the lookout for raptors in the skies above. There's an active Bald Eagle nest a couple of miles from here, and you can sometimes see one patrolling the skies. Cooper's Hawks nest in the woods here, and in winter I've also seen a Northern Goshawk in this spot.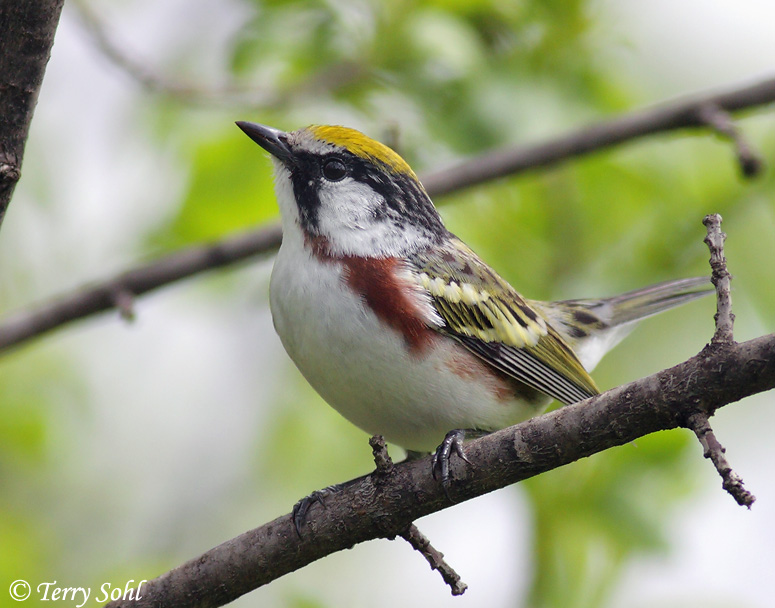 Keep your eyes out for migrating warblers here in the spring...you never know what species you might see.

Use the following Google dialogue to search this South Dakota Birds and Birding site:
Custom Search
SOUTH DAKOTA BIRDS AND BIRDING - LOCATIONS OF WEBSITE VISITORS
Please mail any comments/suggestions/additional links for this page to: Terry L. Sohl