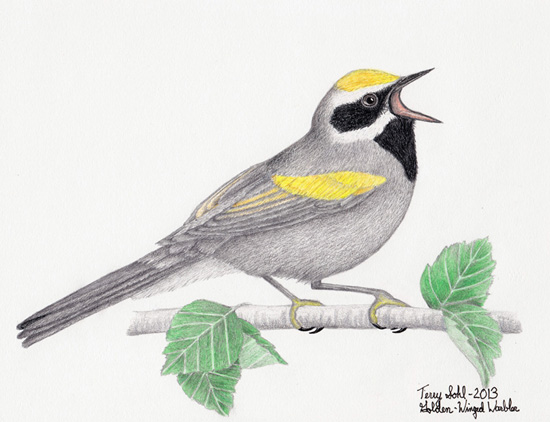 Golden-winged Warblers are undergoing a serious decline as their close relative, the Blue-winged Warbler, expands its range northward. Golden-winged and Blue-winged Warblers sometimes interbreed, creating a wide variety of intermediate offspring. Golden-winged warblers have a quite narrow breeding range which includes the Great Lakes region and much of the Appalachians.
Habitat:
Generally deciduous forest during migration through the state. Breeds in shrubby areas with scattered trees.
Diet:
Primarily insects.
Behavior:
Moves through foliage and gleans insects from leaves and twigs. Primarily forages high in the treetops during the summer months, but can be found lower in the canopy during migration and in winter.
Breeding:
Non-breeder in South Dakota
Migration:
Summers in a relatively narrow area around the Great Lakes and through the Appalachians. Winters in Central and South America.
Similar Species:
Quite distinctive, although hybrid Golden-winged

/Blue-winged Warblers

can be very confusing.
Conservation Status:
In serious declines throughout much of it's range. Golden-winged Warblers are losing ground to competition with
Blue-winged Warblers
, cowbird parasitism, and habitat loss.
2) WhatBird - Golden-winged Warbler
3) Audubon Guide - Golden-winged Warbler
Image Information:
Colored pencil drawing by Terry Sohl - 2013