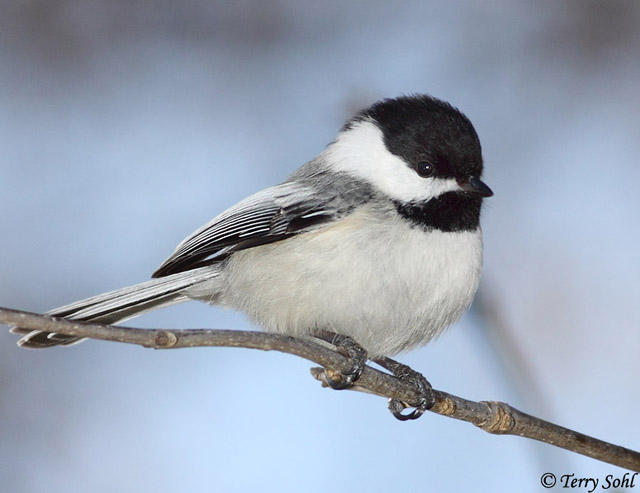 Black-capped Chickadees are a very common permanent resident across South Dakota, and across most of the northern United States. They often associate in winter flocks with an assortment of White-breasted Nuthatches, kinglets, and Brown Creepers. These hardy little birds may sometimes be one of the few signs of bird life in otherwise barren forests in the winter.
Habitat:
Forest and woodlands, groves, shade trees, residential areas, parks. Primarily found in deciduous or mixed forest, not pure conifer stands.
Diet:
Mostly insects, seeds, and berries. Mostly insects in the summer.
Behavior:
Forages by hopping from branch to branch, sometimes hanging upside down as it scours surfaces for food items. They will sometimes cache food for later retrieval and consumption.
Nesting:
Late April through mid-July. The nest is in a cavity in a tree, either a natural cavity, or a cavity previously excavated by a woodpecker. They have also learned to use nest boxes for breeding. The female lays between 6 and 8 eggs, and she alone incubates the eggs, with the male bringing her food during the incubation period. When the eggs hatch, both parents help to feed and raise the young. The young leave the nest after about 2 weeks.
Interactive eBird Map:
Click to access an interactive eBird map of Black-capped Chickadee sightings
Song:
The song of a Black-capped Chickadee is a simple two-note, sweet song, with the first note higher in pitch than the second note. Their name comes from their familiar call, chicka-dee-dee-dee-dee, with the urgency and tone of the last notes often increasing when they are alarmed or defending a nest site.
Migration:
Considered a permanent resident throughout their range.
Similar Species:
In South Dakota, they're unlikely to be confused with other Chickadee species, as we simply don't have other chickadee species in the state. Outside of South Dakota, there's potential confusion with the following Chickadee species:
- Carolina Chickadees basically replace Black-capped Chickadees in the southeastern quarter of the United States, with very little range overlap between the two species. Geographic range is thus the primary way to tell the two species apart. In terms of appearance, Carolina Chickadees have a shorter tail, less white edging on the wings, and are a bit smaller than Black-capped Chickadees. The songs of the two species are also different.
- Chestnut-backed Chickadees are found along the west coast of North America, and may overlap in range with the Black-capped Chickadee. In terms of appearance, they're very similar if you just look at the head! However, as the name implied, Chestnut-backed Chickadees have a rich, warm chestnut color on their back, compared to the plainer gray on a Black-capped Chickadee.
Another species that could potentially be found in conjunction with Black-capped Chickadees, Mountain Chickadees are found throughout much of the western United States. Appearance is very similar between the two species, but Mountain Chickadees have a prominent white stripe above the eye that gives the head a more complex look than the plumage on a Black-capped Chickadee.
Boreal Chickadees are another species that can sometimes overlap in range with Black-capped Chickadees. They are found in northern North America, breeding in Canada and Alaska, with limited populations in the extreme northern part of the lower 48 states. They are similar in overall appearance to Black-capped Chickadees, but have a brown cap instead of a black one.
Conservation Status:
Numbers are generally thought to be stable, and Black-capped Chickadees are found over a very wide geographic area. In recent years, there are some indications that West Nile virus has taken a heavy toll on Black-capped Chickadee populations in some regions. However, populations are not currently threatened, and the IUCN lists the Black-capped Chickadee as a species of "Least Concern".
Feeders:
Will attend feeders for assorted nuts, sunflower seeds, peanut butter, and suet.
Birdhouses:
Will nest in birdhouses designed for Chickadees. Click here for information about nest boxes, from Nestwatch.org.
Further Information:
Photo Information:
March 21st, 2010 - Perry Nature Area, Minnehaha County, South Dakota - Terry Sohl
Additional Photos:
Click on the image chips or text links below for additional, higher-resolution Black-capped Chickadee photos.
Audio File Credits:
Jim Berry. Recorded in Chautauqua County, New York on May 21st, 2020. Original recording and information from
xeno-canto.
2
Sonny Tseng. Recorded near Vancouver, British Columbia on March 21st, 2020. Original recording and information from
xeno-canto.