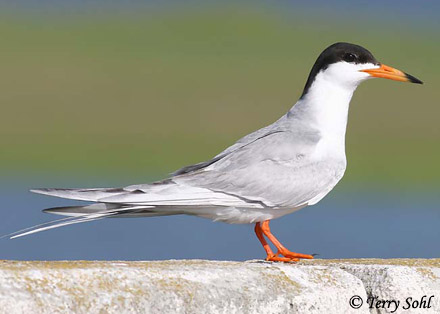 Forster's Terns are generally the most common of the black-capped, gray-backed, white bodied terns found in the state. Very similar to the Common Tern, the Forster's Tern is also the more common breeder in the state, generally being found around freshwater marshes, and often nesting on the top of muskrat houses.
Habitat:
In summer, primarily large freshwater marshes on the interior of the country, or salt marshes along the coasts. In winter, many aquatic habitats along the coasts.
Diet:
Primarily fish, but will also eat insects, small crustaceans and mollusks, frogs, and tadpoles.
Behavior:
Forages by flying slowing over water or hovering, dipping down to snag sighted fish below the surface. They will also sometimes capture flying insects in mid-air.
Nesting:
June and July
Migration:
Summers in scattered locations throughout the U.S. and southern Canada. Winters along U.S. coastlines and points south, but is generally not as much of a long-distance migrant as its close relatives.
Conservation Status:
Has declined in portions of its range, probably due to habitat loss.
3) Audubon Guide - Forster's Tern
Photo Information:
June 23rd, 2005 - Assateague Island in Virginia - Terry Sohl
Additional Photos:
Click on the image chips or text links below for additional, higher-resolution Forster's Tern photos.