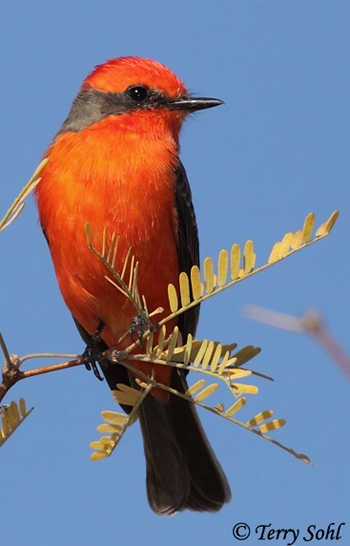 Unlike many North American flycatchers, the male Vermilion Flycatcher is brilliantly colored, with bright red underparts and head, with darker upperparts and a dark eye mask (see photo to the right). Females are much more muted, being primarily gray and white (see photo at the bottom of the page). Vermilion Flycatchers normally only reach the United States in the extreme Southwest. Small numbers of birds do winter near the Gulf Coast, but they only rarely stray as far north as South Dakota. They can also be found throughout Mexico, and Central and South America. Males perform a spectacular flight display, puffing themselves up, rising high in the air, and then fluttering downward again in a process that may repeat itself many times.
Habitat:
Generally found in open country with scattered trees, normally near rivers, streams, and lakes. They may also occasionally be found in grassland or desert areas far from water.
Diet:
Feeds exclusively on insects.
Behavior:
Forages by observing from a perch, and flying out to capture insects when spotted, either catching them in mid-air, or pouncing on them on the ground or in foliage.
Breeding:
Non-breeder in South Dakota. In their breeding range, the nest is a small cup, constructed of twigs, grasses, tree bark, and other material, lined with softer and finer material such as hair, down, or fine grasses. It is placed on a tree branch, anywhere from 6 to 30 feet off the ground. The female lays 2 to 4 eggs, and she alone incubates them. The young hatch after about two weeks, and fledge from the nest in another 12-14 days.
Song:
The song is a high, fluttering series of rising and falling notes, often given while in flight.
Migration:
Generally a permanent resident throughout most of its range, although some birds at the northern end of its range (southwestern U.S.) may move southward or to lower elevations in the winter.
2) Audubon Guide - Vermilion Flycatcher
3) WhatBird - Vermilion Flycatcher
Photo Information:
December 9th, 2010 - Near Chandler, Arizona - Terry Sohl