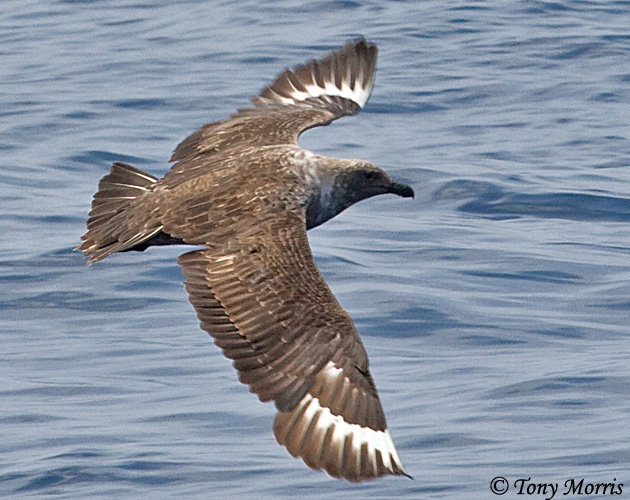 The South Polar Skua is a large, predatory seabird that is found with regularity of both coasts of North America. They are long-distance migrants, as their breeding grounds are barren areas of Antarctica. While South Polar Skuas do foraging for their own prey, they are also known for their very aggressive actions in stealing food from other bird species. When a South Polar Skua identifies another bird that has captured a fish, the Skua will pursue the bird in flight, jostling it or even grabbing it with its bill and shaking it in an effort to make the other bird drop its prey. They are equally aggressive as predators on their breeding grounds, where nearby penguin colonies may be terrorized by South Polar Skuas coming into raid the colony for penguin eggs or young chicks.
Habitat:
During the breeding season, they are found in barren areas of Antarctica. Outside of the breeding season, South Polar Skuas are highly pelagic, typically found well offshore.
Diet:
Mostly feeds on fish, especially when away from the breeding grounds. In some breeding areas, South Polar Skuas feed heavily on eggs and chicks of other breeding birds, including penguin colonies.
Behavior:
Forages by flying over the surface of the water and plunging into the water when food is spotted. They will also sometimes float on the ocean's surface and directly grab food items that come into range. South Polar Skuas will often steal food from other birds, even grabbing gulls and other seabirds in flight and shaking them to make them drop their catch.
Nesting:
The South Polar Skua builds a simple scrape nest on the ground, in a mossy area or area of soft soil. The female usually lays 2 eggs, and both parents help to incubate them. When the eggs hatch, both parents help to feed them. Young usually fledge after 7 to 8 weeks.
Song:
Away from their nesting grounds, South Polar Skuas are usually silent.
Migration:
Nests in select locations in Antarctica. Disperses widely across the Atlantic and Pacific oceans after the breeding season.