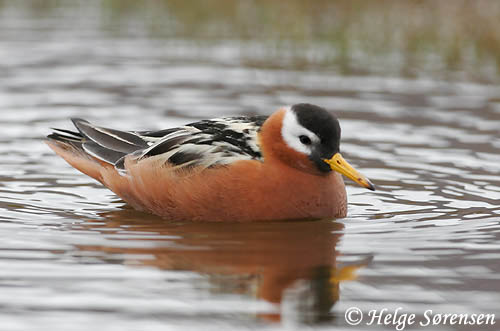 The Red Phalarope is the most pelagic of the phalaropes, spending most of its time well out to sea. They are only rarely seen from land outside of the summer breeding season in the Arctic, with only a few strays migrating through the interior of the continent. Like other phalaropes, they will feed by spinning on the water's surface and plucking the small food items that surface.
Habitat:
Found on low-lying tundra near the Arctic coast during the summer breeding season. In migration and in winter, usually found very far out to sea, with only a few migrating through the interior of the continent.
Diet:
Summer diet is large insects and insect larvae. Also eats small mollusks, crustaceans, aquatic worms, plankton, and small fish.
Behavior:
See notes above. Feeds in typical phalarope fashion.
Breeding:
Non-breeder in South Dakota
Song: Sharp twik and a musical clink-clink.
Migration:
Summers in the Arctic. Most winter in the Atlantic and Pacific Oceans in the Southern Hemisphere, with lesser numbers wintering offshore in the Northern Hemisphere.
Conservation Status:
Generally stable throughout its range.
2) Audubon Guide - Red Phalarope
Photo Information:
Taken in Spitbergen, Norway, June 2006 by
Helge Sørensen