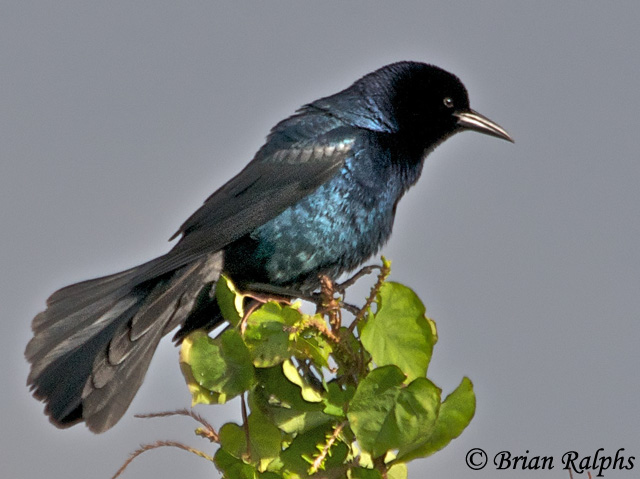 The Boat-tailed Grackle is a large grackle species found along the Gulf and Atlantic coasts. Boat-tailed Grackles and Great-tailed Grackles were considered the same species until the 1970s. The Boat-tailed Grackle is nearly always found near water sources, and outside of Florida, they are nearly always found near the coastline. In Florida, they can be found in the interior of the state, but again are always found near water sources such as wetlands and lakes.
Habitat:
Found near the Gulf and Atlantic coasts, almost always near sources of water such as wetlands and coastal marshes, lakes, rivers, and mudflats.
Diet:
Omnivorous, with the diet dependent upon season and location. Feeds heavily on aquatic creatures such as aquatic insects, tadpoles, crayfish, small frogs, small fish, and snails. They also will feed on seeds and grains, especially during the winter months. If the opportunity arises, they will sometimes feed heavily on the eggs of other birds.
Behavior:
Foraging behavior depends upon location and season, but they often forage by walking along the shoreline in search of food items.
Nesting:
The Boat-tailed Grackle nests in colonies, usually near water. The nest is a large cup of sticks, grasses, weeds, and wetland vegetation, with mud and finer grasses lining it. The female usually lays 2 to 4 eggs, and she alone incubates them. After the young hatch, the female alone feeds them. The young leave the nest after about 2 weeks.
Song:
Song of a Boat-tailed Grackle is a series of ringing or whistled notes, often interspersed with harsher notes.
Migration:
Considered a permanent resident throughout most of their range. Some at the northern edge of their range may move short distances to the south for the winter.
Feeders:
Will attend feeders for various seeds, bread, and suet.