Hooded Merganser
Photo of the Week (March 29th, 2020)
(archive photos of the week here)
A nemesis species if there ever was one! For 20+ years of bird photography, I've gotten only a few long distance, bad shots of a male Hooded Merganser, and only one decent photo of a female. I went out birding Sunday, March 29th, 2020 with the thought of trying to get a photo of one, but not really expecting success. I have a chair blind I initially set up at dawn at Weisensee Slough, in western Minnehaha County (just west of Sioux Falls). I'd seen them there the week before, and saw a pair while camped out, but they never came anywhere close to my blind. Par for the course, I thought! I packed up, and started driving north, ending up at Lake Thompson. While there, I saw a group of about 11 birds, with 10 of them males. They were all fighting and vying for the attention of the one poor female. I set up the blind again, and waited. For almost 2 hours, they were almost always within view, flying from spot to spot as they sparred. They got close, but never QUITE close enough. Finally, however, two males split off, with one chasing the other...and they landed right in front of the blind! Not only was I able to get my first close shot of a male Hooded Merganser, but because they were all worked up and chasing each other, I got a photo with that spectacular crest fully raised.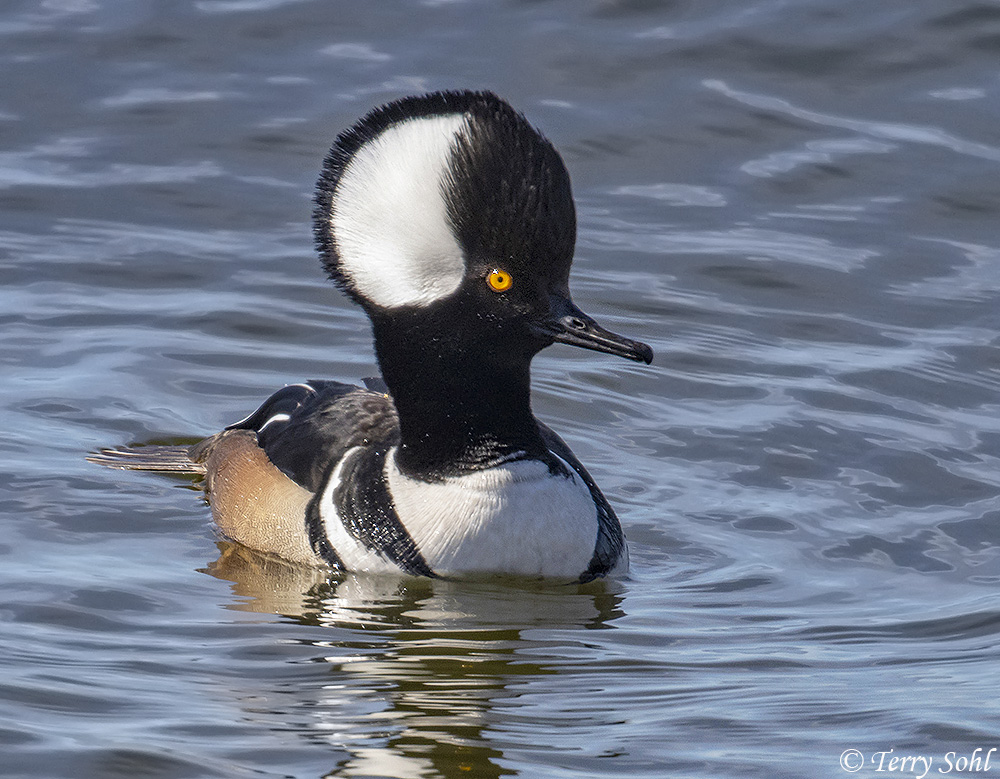 | | | | | |
| --- | --- | --- | --- | --- |
| | | | | |
Contact me if you'd like to order a print of this photo - Multiple sizes, matting options available
All photos copyrighted! Click for information on commerical usage, or usage for other personal purposes.
Use the following Google dialogue to search this South Dakota Birds and Birding site:
Custom Search
SOUTH DAKOTA BIRDS AND BIRDING - LOCATIONS OF WEBSITE VISITORS
Please mail any comments/suggestions/additional links for this page to: Terry L. Sohl