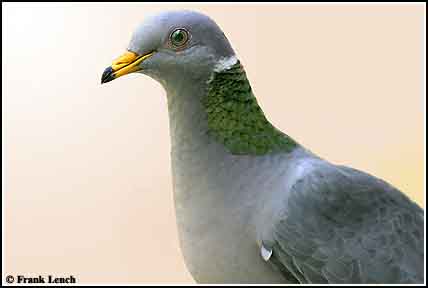 The Band-tailed Pigeon is primarily a bird of the West Coast and the Southwest U.S., and are only accidental visitors to South Dakota. Unlike other pigeons and doves, they feel quite comfortable in trees, and can often be found clambering around a tree for nuts and berries. Band-tailed Pigeons were nearly hunted to extinction, but have rebounded and are still expanding in population and range.
Habitat:
Prefers semi-open habitats such as open woodlands. Can also be found in riparian areas in desert areas, and is increasingly found in residential areas.
Diet:
Primarily nuts, seeds, fruits, and berries. Has a strong preference for acorns if available. They will also feed on flowers, leaves and buds, and occasionally insects.
Behavior:
Sociable birds, usually found in flocks, including nesting seasons when they are most often found in small colonies. They will forage on the ground as well as in trees.
Song:
An owl-like hooting.
Migration:
Many populations along California coast are permanent populations. Other populations in the southwestern U.S. and along the Northwest coast are only present in summer.
Conservation Status:
Was hunted nearly to extinction by the 1900's. They have recovered, thanks to hunting restrictions.
2) WhatBird - Band-tailed Pigeon
3) Audubon Guide - Band-tailed Pigeon
Photo Information:
April 18th, 2003 -- Lafayette, California --
Frank Lench