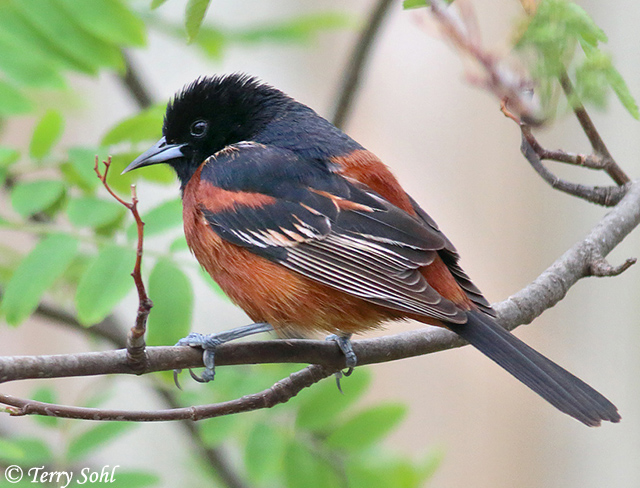 Orchard Orioles are a small oriole species, and are a summer resident of parks, gardens, and woodland edges in South Dakota. They migrate in large flocks very early in late summer or early fall. They are smaller and have a much ruddier orange plumage than do the other Orioles in the state, the Baltimore Oriole and Bullock's Oriole. Their time in the state is often quite short compared to most summer breeding birds, as they may arrive rather late in the spring, and start to move south as early as July. The photo on the right depicts the male. More photos, including females and young males in confusing plumages, can be found at the bottom of the page.
Habitat:
Prefers woodland edges, woodland clearings, residential areas, parks. Avoids unbroken forest. Can often be found in rather open areas with scattered stands of trees as well.
Diet:
Primarily insects, also fruit and berries, nectar, and flowers.
Behavior:
Searches low through trees, bushes, and weedy fields in search of insects. They are known as "nectar robbers", getting nectar without pollinating a flower by piercing the base of flowers to obtain nectar, bypassing the parts of the flower that allow for pollination.
Nesting:
May through July. The nest of an Orchard Oriole is a pouch, attached to a fork of a tree or large bush, placed away from the main trunk. Nest height may be within a few feet of the ground or relatively high up in a tree. The female is responsible for most of the nest building, using green grass stems and lining the interior with finer vegetative material. Three to seven eggs are laid, with incubation carried out by the female and last about 2 weeks.
Song:
Capable of a number of vocalizations, including sharp chit notes, musical whistled warbling, and harsher notes. The song is primarily a musical warbling, but sometimes with harsher notes intermixed.
Migration:
Neotropical migrant, summering in the eastern 2/3rds of the U.S., wintering in Central and South America. Migration is often done quite late in the spring and quite early in the summer, with as little as 2 months spent in South Dakota during the summer breeding season.
Interactive eBird Map:
Click here to access an interactive eBird map of Orchard Oriole sightings
Similar Species:
The adult male Orchard Oriole is unmistakable, with different colors and pattern than other Orioles. Females are similar to female Baltimore Oriole and Bullock's Oriole. Young males can be confusing as they are yellow like the female, but with a black chin. The black plumage elements differentiate young males from females.
Baltimore Oriole - Female Baltimore Orioles could be confused with female Orchard Orioles where their ranges overlap in eastern and central South Dakota. The Baltimore Oriole female is more orangish than a female Orchard Oriole. They also have a scaly dark pattern on their back, while the back of a Orchard Oriole is a more uniform greenish-yellow.
Bullock's Oriole - Female Bullock's Orioles could be confused with female Orchard Orioles where their ranges overlap in western and central South Dakota. The Bullock's Oriole female is more orange overall, with a darker scaly pattern on their upperback, and lighter underparts than a female Orchard Oriole. (I don't have any female Bullock's Oriole photos to compare below).
Conservation Status:
Has decreased in some parts of its range, such as areas in the east where forest regeneration in some areas has eliminated edge habitat and woodland edges that Orchard Orioles often prefer. However, they have also seemingly increased in range and number in parts of the Northern Great Plains. Orchard Orioles are extremely common victims of Brown-headed Cowbird parasitism, with studies in some areas showing up to 50% of nests being victimized. These same studies have shown that Orchard Orioles who are victims of cowbird parasitism only successfully fledge half as many Orchard Oriole nestlings as do nests that aren't parasitized. See photos at the bottom of the page for a male Orchard Oriole feeding a Brown-headed Cowbird fledgling. Despite the conservation challenges, overall populations are considered stable, and the IUCN describes the Orchard Oriole as a species of "Least Concern".
Bird Feeders:
Will drink sugar-water from feeders, also will come for fruit. Will utilize jelly and orange halves often offered at "Oriole feeders".
Further Information:
Photo Information:
May 11th, 2018 - Brandon, South Dakota - Terry Sohl
Additional Photos:
Click on the image chips or text links below for additional, higher-resolution Orchard Oriole photos.
Audio File Credits: