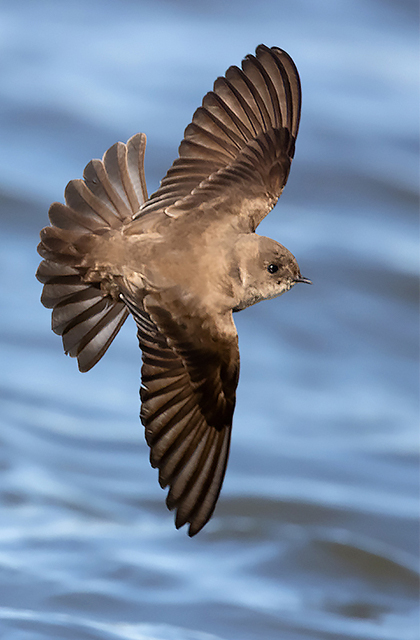 Northern Rough-winged Swallows are named for the tiny serrations on it's outermost wing feathers. Even their scientific genus name, Stelgidopteryx, means "scraper wing", while the species wing serripennis means "saw feather". Northern Rough-winged Swallows are more solitary than most swallows, and despite nesting in holes like their cousins the Bank Swallows, they don't typically form large nesting colonies.
Habitat:
Northern Rough-winged Swallows are typically found near lakes, streams, river banks, and bluffs. They can be found nesting at a wide variety of vertical dirt banks, but they are typically near water. Most often they use burrows built by other creatures, although sometimes they will nest in a cavity in a man-made structure.
Diet:
Feeds almost exclusively on flying insects.
Behavior:
Forages primarily while in flight, capturing flying insects in mid-air, usually relatively low to the ground.
Nesting:
Late May and June. The nest of a Northern Rough-winged Swallow is in a cavity, traditionally a cavity in a tree or a recessed crevice in a rocky area, but they have now also started to utilize nest boxes. The nest in the cavity is a cup built of grasses, sedges, and twigs, lined with feathers. The female usually lays 4 to 6 eggs, and she alone incubates them. Once the eggs hatch, both parents help to feed the young. The young fledge after about 24 days, but usually continue to be fed by the parents for a few weeks after fledging.
Song:
Northern Rough-winged Swallows are not a very vocal species. They are occasionally heard vocalizing a slightly harsh chattering call, or quiet chip notes.
Migration:
Neotropical migrant, wintering from the extreme southern U.S. and further south.
Interactive eBird Map:
Click here to access an interactive eBird map of Northern Rough-winged Swallow sightings
Similar Species:
Potentially confused with the following swallow species:
Bank Swallow - The most difficult species to distinguish from Northern Rough-winged Swallows, Bank Swallows are very similar in size and coloring. However, Bank Swallows have a characteristic brown band across their light-colored chest, while the underside of a Northern Rough-winged Swallow is a light brown that fades to white on the belly, without any distinguishing color band. In flight, Bank Swallows show a slightly forked tail, while the tail of a Northern Rough-winged Swallow is squared off.
Tree Swallow - Adult plumage Tree Swallows are easily distinguished from Northern Rough-winged Swallows, as they are a metallic dark blue color. However, young Tree Swallows are brown on their upperparts and may strongly resemble a Northern Rough-winged Swallow. Differentiating the two species is done by looking at the underside of the bird. Juvenile Tree Swallows have white underparts that constrast strongly with the upperparts, with a sudden transition from white to dark. Northern Rough-winged Swallows have a light dirty brown color on the flanks and breast which slowly transition to white on the belly. In the field, the color of the throat is the easiest way to distinguish them, as Tree Swallows have a white throat, while it's light dirty brown on a Northern Rough-winged Swallow.
Cliff Swallow - A much easier species to differentiate from a Northern Rough-winged Swallow, adult Cliff Swallows have a dark bluish luster on their upperparts, a rusty throat, and a white patch above the bill. Young Cliff Swallows are a bit more difficult to differentiate as they do have brownish tones on their upperparts, and the strong facial and head patterns take a little while to develop.
Conservation Status: Northern Rough-winged Swallows are probably more numerous and widespread now than they were pre-settlement. They've learned to adapt well to a human presence, and will now use bridges and road cuts for nesting in addition to natural sites. There are some indications that populations have declined slightly in recent decades, but they are still found across a very broad geographic area, and are common in parts of their range. The IUCN lists the Northern Rough-winged Swallow as a species of "Least Concern".
Further Information:
Photo Information:
May 10th, 2020 - Newton Hills State Park, South Dakota - Terry Sohl
Additional Photos:
Click on the image chips or text links below for additional, higher-resolution Northern Rough-winged Swallow photos.
Audio File Credits:
1Paul Marvin. Recorded in San Diego County, California on March 15th, 2020. Original recording and information from xeno-canto.
2Meena Haribal. Recorded in Clallam County, Washington on June 4th, 2018. Original recording and information from xeno-canto.