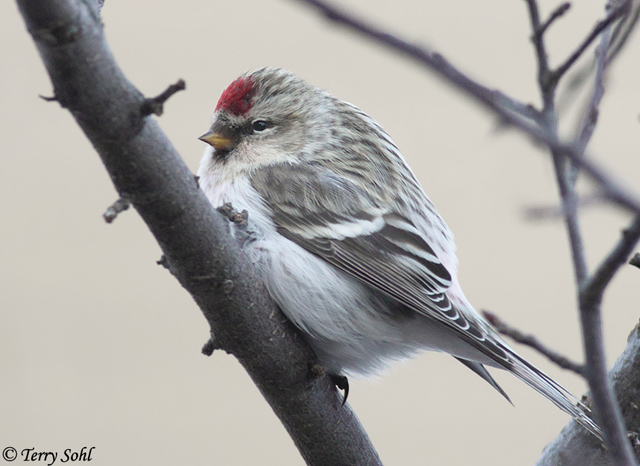 The Hoary Redpoll is normally found in or near the high Arctic year-round. Some overwinter in incredibly harsh conditions of the tundra, but they erratically and unpredictably may move well south of their normal range in the winter, and sometimes reach the northern United States. They are very similar to the Common Redpoll. Quite tame, they sometimes will even allow themselves to be hand-fed
Habitat:
Found in brushy thickets on the open tundra of the Arctic Circle during the summer breeding season. During winter, they can also be found along woodland edges, and in brushy or weedy areas.
Diet:
Primarily feeds on seeds. Also will take buds, catkins, and insects.
Breeding:
Non-breeder in South Dakota
Song:
A trilling followed by a slow twittering.
Migration:
Summers in the Arctic Circle. Some may winter near the Arctic Circle, with others moving mostly short distances into Alaska and Canada. They occasionally do move in numbers well south of the Arctic Circle in winter, however, with some occasionally reaching the northern United States.
Bird Feeders:
Will come to feeders for sunflower seeds, millet, and niger ("thistle") seed.
Conservation Status:
Seems to be generally stable throughout its normal range.
3) Audubon Guide - Hoary Redpoll
Photo Information:
January 12th, 2013 - Our yard in Brandon, South Dakota!!! - Terry Sohl