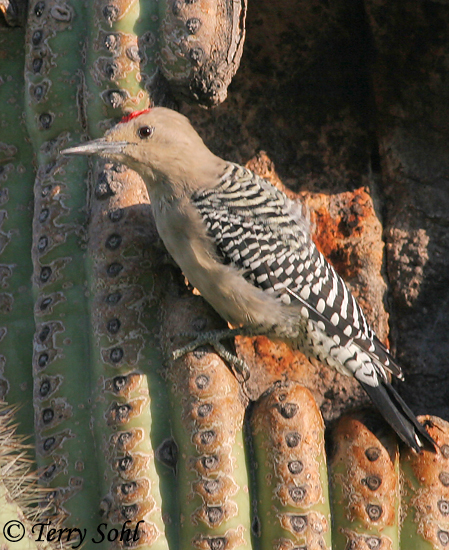 The Gila Woodpecker is a woodpecker of the arid American Southwest. It has a relatively small range in southern Arizona, and western Mexico. There, they are a common, oftentimes loud and obvious, presence in and around human dwellings, as they have adapated well to a human presence in the region. In areas of saguaro cactus in the Sonoran Desert, the saguaro often have cavities created by both Gila Woodpeckers and Gilded Flickers. These cavities serve an important ecological purpose for other species as well, as many other birds use them for nesting.
Habitat:
Found in dry habitats in the desert southwest, in and around areas with suitable nesting locations. This includes areas of saguaro cactus, large mesquite trees, or cottonwood trees along desert riparian areas.
Diet:
Ominivorous, feeding on a variety of both plant and animal matter. Diet depends on location and season, but may include insects, fruit (especially cactus fruit), berries, nectar, seeds, nuts, small lizards, and eggs.
Behavior:
Uses a variety of foraging techniques. Will climb and hop on cactus and trees in search of food, but will also forage directly on the ground.
Nesting:
The nest of a Gila Woodpecker is built in a cavity of a tree or cactus. Both parents help to build the nest, and both help to incubate the eggs. Both parents help to raise the young. After fledging from the nest, the young birds will often associate with the parents for several months before becoming completely independent.
Song: Has a variety of different calls, including a brash quirrrrrrrll and a series of laughing notes.
Migration:
Considered a permanent resident throughout its range.
Feeders:
Will attend feeders on occasion for nuts and suet. They also will come to hummingbird feeders to feed on sugar water.
Conservation Status: Gila Woodpeckers have disappeared from much of their former range in southern California. However, they are still common in southern Arizona, and the IUCN lists the Gila Woodpecker as a species of "Least Concern".
Further Information:
Photo Information:
Photo taken on September 10th, 2006 - Near Tucson, Arizona - Terry Sohl
Additional Photos:
Additional Photos Coming Soon!!