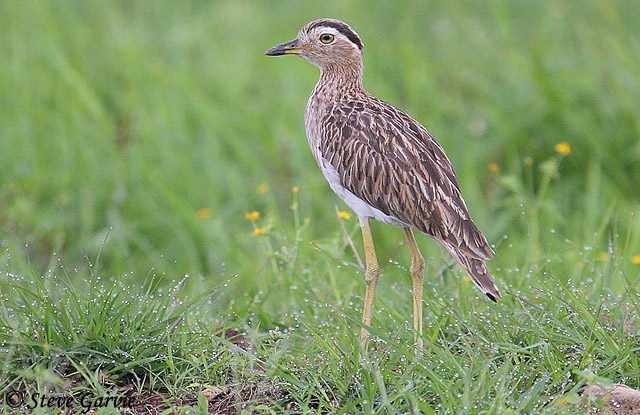 The Double-striped Thick-knee is a "shorebird" of southern Mexico, Central America, and South America. In the United States, they are only extremely rare vagrants, with a sighting on "King's Ranch" in southern Texas in 1951. They are a species of open grasslands and savannahs, where they forage for insects and sometimes small vertebrates. Double-striped Thick-knees feed using a "stop-and-go" technique, running quickly along the ground and stopping periodically to pick up prey. A strongly terrestrial species, they also prefer to run when disturbed or when danger approaches, rather than fly.
Habitat:
Found in open habitats such as grasslands, open savannahs, and agricultural areas. Also can sometimes be found in open woodland.
Diet:
Feeds on insects, worms, and mollusks, and occasionally on small reptiles or rodents.
Behavior:
Mostly nocturnal. During the day, Double-striped Thick-knees typically crouch low in vegetation and rest. At night, they forage by quickly running short distances, stopping periodically to pick up prey.
Nesting:
The nest of a Double-striped Thick-knee is a shallow depression in the ground. The female lays 2 eggs, and both parents help to incubate them. When the eggs hatch, the young quickly leave the nest. They are tended to by the parents, but are precocial and will find their own food.
Song: Song of a Double-striped Thick-knee is a loud "kee-kee-kee-kee", given at night.
Migration:
Considered a permanent resident throughout its normal range.
Similar Species:
Generally distinctive compared to other shorebird species found in North America.