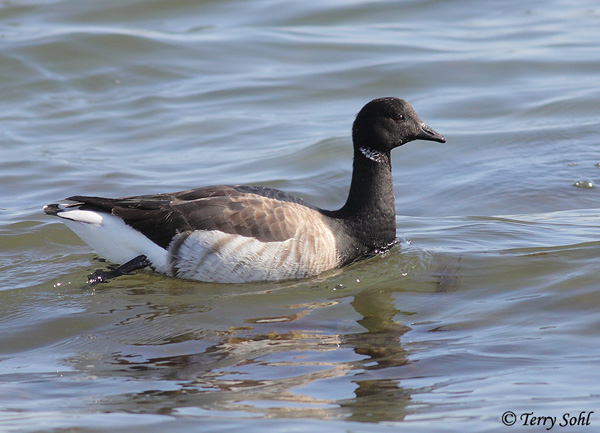 The Brant is a small goose that is normally found in the high Arctic in summer, and along U.S. coastlines in winter. They generally use the same migration routes yearly, and are only rare migrants in South Dakota. Two color forms are found, the dark-bellied "Black Brant" of western North America, and the lighter-bellied form of eastern North America.
Habitat:
Found on wet coastal tundra of the high Arctic during breeding season. In winter, usually found along U.S. coastlines.
Diet:
Primarily feeds on aquatic plants, grasses, and sedges. Will also occasionally feed on aquatic insects, worms, crustaceans, and mollusks.
Behavior:
Forages by tipping up in shallow water, by wading, or by walking on land. They usually forage in flocks.
Breeding:
Non-breeder in South Dakota
Song:
Hoarse low honking.
Migration:
Summers in the high Arctic tundra. Winters along both the U.S. Atlantic and Pacific coasts. Generally only rarely migrates through this part of the country.
Conservation Status:
Generally stable throughout their range.
Photo Information:
Photo taken on April 13th, 2012 - Sachuest National Wildlife Refuge, Rhode Island - Terry Sohl