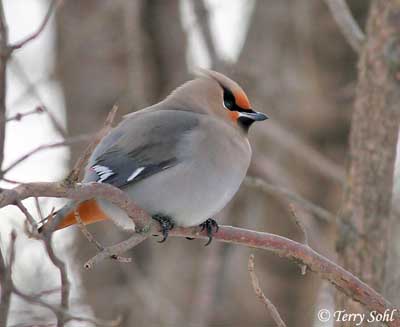 Similar to its close relative, the Cedar Waxwing, Bohemian Waxwings are irregular winter visitors to the state. Summering in the northwestern part of Canada and Alaska, Bohemian Waxwings may appear in large numbers in the state during some winters, and be largely absent in others, staying true to their "nomadic" name. They are generally found in mixed flocks with Cedar Waxwings when in the state.
Habitat:
Can be found in a wide variety of semi-open forest habitats during the winter. Breeds in boreal forests of northern Canada and Alaska.
Diet:
Primarily insects in the summer, also some fruits and berries. Fruits and berries are the primary food in the winter. Will also eat seeds of some trees such as birch.
Behavior:
In winter in South Dakota, moves through berry trees, snagging berries while climbing or hovering. In summer, flies out from a perch to capture flying insects.
Breeding:
Non-breeder in South Dakota
Migration:
Summers in northwestern Canada and Alaska. Difficult to predict winter movements, with heavy irruptions well into the interior of the United States in some winters.
Conservation Status:
Possibly increasing in numbers and pushing its range further to the south.
Feeders:
Will come to feeders for fruits and berries.
2) WhatBird - Bohemian Waxwing
3) Audubon Guide - Bohemian Waxwing
Photo Information:
February 12th, 2006 -- Near Brandon -- Terry Sohl
Additional Photos:
Click on the image chips or text links below for additional, higher-resolution Bohemian Waxwing photos.