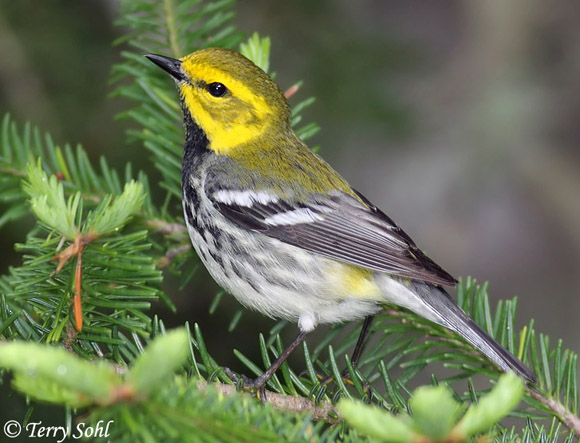 The Black-throated Green Warbler is a relatively uncommon migrant through the eastern part of the state. Easily identifiable, with the black throat and upper chest of the male offset by the bright yellow head. An isolated race breeds in the cypress swamps of the Carolinas.
Habitat:
Generally found in forest and forest edges during migration through the state. Breeds primarily in conifer and mixed forests.
Diet:
Primarily insects. Will occasionally eat berries during migration and in winter.
Behavior:
An active forager, moving briskly from location to location along branches and in the foliage of trees, gleaning insects from the vegetation surface, or occasionally flitting out to snag insects in mid-air.
Migration:
Summers in New England, the Appalachians, the Great Lakes region, and much of southern and eastern Canada. Winters in Mexico and points south.
Conservation Status:
Has declined as a breeding bird in the northeastern United States and the Great Lakes region.
2) WhatBird - Black-throated Green Warbler
3) Audubon Guide - Black-throated Green Warbler
Photo Information:
Photo taken on May 24th, 2012 near Acadia National Park, Maine - Terry Sohl