Northern Cardinal
Photo of the Week (February 18th, 2018)
(archive photos of the week here)
Given the lack of variety of birds we get in the winter, and given that the vast majority of birds I get at my feeders in winter are Dark-eyed Juncos, Pine Siskins, House Sparrows, and other "non-colorful" birds, it's always welcome when the resident Northern Cardinals pay a visit. I never have more than one pair at my feeders, but they're pretty darned faithful! Every evening, half an hour before sunset or so, both a male and a female show up to feed. They're less frequent visitors at other times, but here a gorgeous male pauses in the trees by my feeders on a very chilly morning, right after dawn.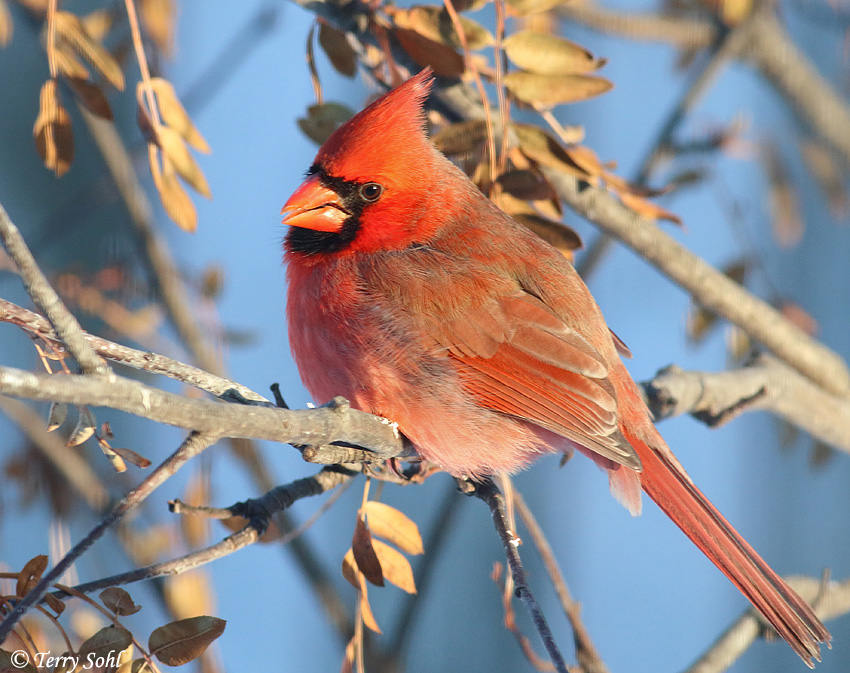 Contact me if you'd like to order a print of this photo - Multiple sizes, matting options available
All photos copyrighted! Click for information on commerical usage, or usage for other personal purposes.
Use the following Google dialogue to search this South Dakota Birds and Birding site:
Custom Search
SOUTH DAKOTA BIRDS AND BIRDING - LOCATIONS OF WEBSITE VISITORS
Please mail any comments/suggestions/additional links for this page to: Terry L. Sohl