Black-throated Blue Warbler
Photo of the Week (May 21st, 2017)
(archive photos of the week here)
The week of May 21st...a new week, and hopefully better than the last one! I did very little birding last week. I did very little of ANYTHING last week. With my Sjogren's Syndrome, my eyes are really dry, and I had some issues with one eye that basically required me to wear an eye patch all week while it healed. Tough to bird and take photos with one eye! But on Sunday, May 21st, I took the patch off (a day early...don't tell my doctor) and went birding at Newton Hills State Park. It's been a cold, wet, gloomy, miserable week, and that continued today, but it didn't stop the birds from continuing their spring migration. Newton Hills was pretty active, with most of the summer residents having arrived, and good numbers of migrants still moving through. It wasn't a great day for warblers...until this guy showed up. I've only seen one Black-throated Blue Warbler in South Dakota before...a real treat that made me forget about my troubles the week before, and the gloomy, cold weather. He was foraging in the undergrowth on the edge of the forest, and doing a damn good job of concealing himself from my camera for most of the time I watched him. Finally he popped up into relatively clear spot and gave me time to trigger off a few photos before jumping back into the brush. Beautiful bird, and nice to get a decent photo of a South Dakota rarity.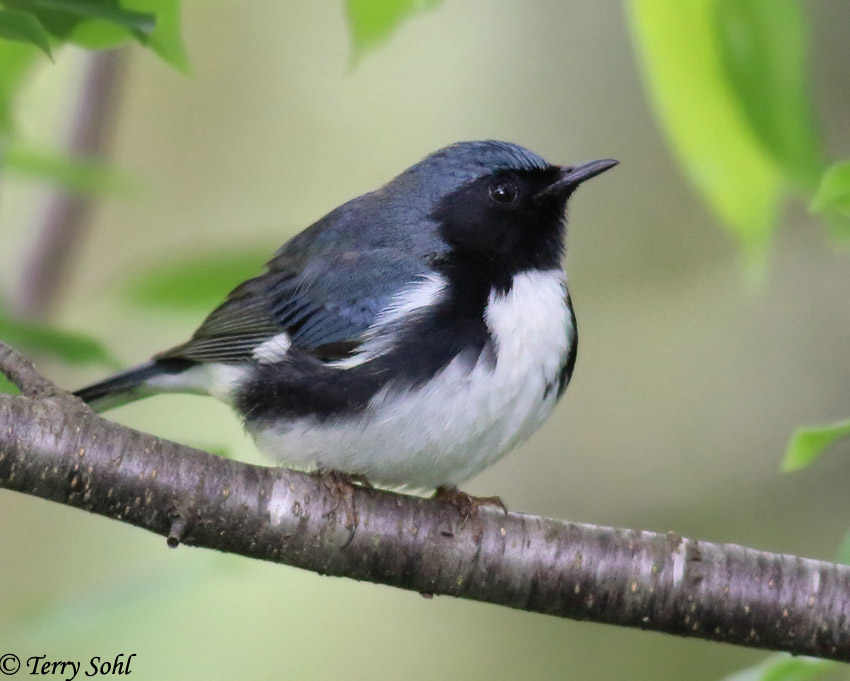 | | | | | |
| --- | --- | --- | --- | --- |
| | | | | |
Contact me if you'd like to order a print of this photo - Multiple sizes, matting options available
All photos copyrighted! Click for information on commerical usage, or usage for other personal purposes.
Use the following Google dialogue to search this South Dakota Birds and Birding site:
Custom Search
SOUTH DAKOTA BIRDS AND BIRDING - LOCATIONS OF WEBSITE VISITORS
Please mail any comments/suggestions/additional links for this page to: Terry L. Sohl