Virginia Rail
Photo of the Week (May 14th, 2017)
(archive photos of the week here)
I did do quite a bit of birding over the last week, heading out for most of one evening, and then spending much of Saturday birding. Birding was pretty good...not many warblers yet, but a good mix (Blackburnian being the highlight), plus a very large flock of American Golden Plovers, a species I don't see all that often. Good week for birding, bad week for photos. The photo of the week is thus a photo taken last weekend, a Virginia Rail. These guys are heard a lot when you are around cattails and wetlands, but seen much less frequently. However, when they're around, I've found that if you're patient you can usually get a glimpse. In this case, it was a wetland in Lincoln County with a gravel road running through it. I heard Virginia Rail and Sora both calling, so I pulled over, rolled down the window, and waited. Got glimpses of both species, but it was this Virginia Rail that briefly gave me a little window through the vegetation to get a nice photo.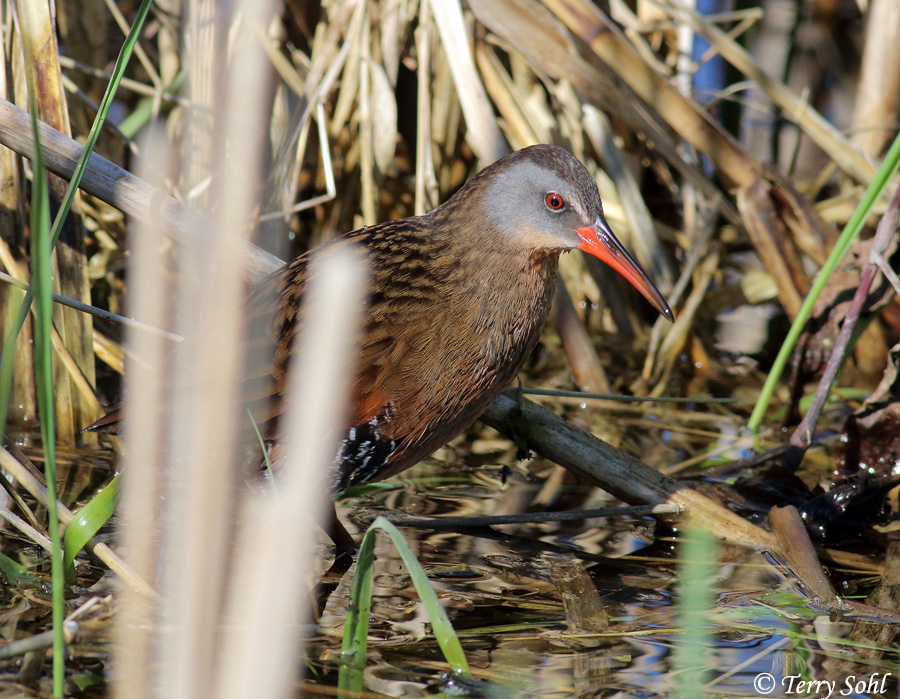 | | | | | |
| --- | --- | --- | --- | --- |
| | | | | |
Contact me if you'd like to order a print of this photo - Multiple sizes, matting options available
All photos copyrighted! Click for information on commerical usage, or usage for other personal purposes.
Use the following Google dialogue to search this South Dakota Birds and Birding site:
Custom Search
SOUTH DAKOTA BIRDS AND BIRDING - LOCATIONS OF WEBSITE VISITORS
Please mail any comments/suggestions/additional links for this page to: Terry L. Sohl