Black-throated Green Warbler
Setophaga virens
OK, if you could ma'am...come over here to the spruce tree...could you sit there? No...just a little to the right...little more...little more, so we can see the spruce cone...ok...STOP! Could you give me a side view, with a touch of eye contact? THERE! Perfect...now...CHEESE!!
Ah, if only. Not very often a bird lands in a perfect spot for a photo and gives you a nice pose. However, that's what this female Black-throated Green Warbler did while we were on a vacation in Acadia National Park in Maine in 2012. I have such a tough time getting warbler photos to begin with, given how active they are. Was nice to get a warbler in such a great setting for a change.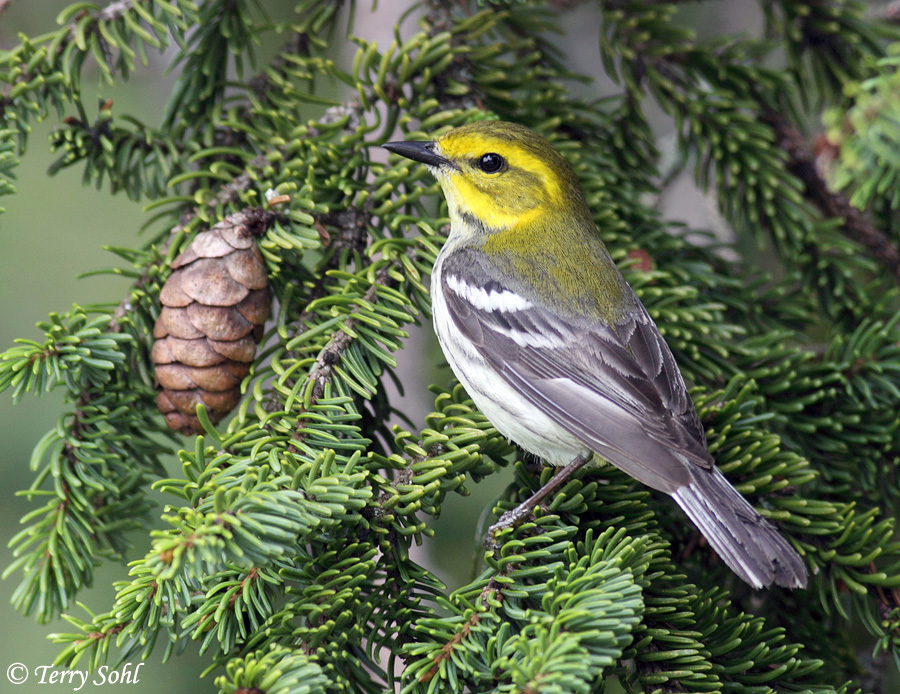 Click here for more information on this species
All photos copyrighted! Click for information on commerical usage, or usage for other personal purposes.
Please email if you'd like to order a print of these photos
Use the following Google dialogue to search this South Dakota Birds and Birding site:
Custom Search
SOUTH DAKOTA BIRDS AND BIRDING - LOCATIONS OF WEBSITE VISITORS
Please mail any comments/suggestions/additional links for this page to: Terry L. Sohl