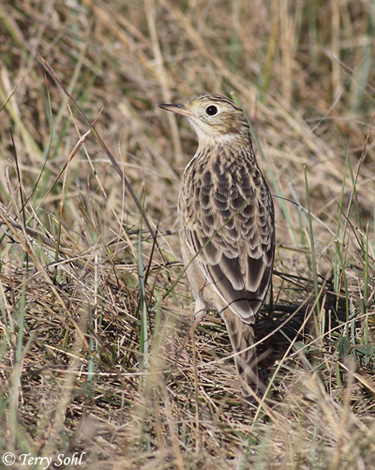 Sprague's Pipits can be difficult to observe, given their tendency to freeze or run when approach rather than fly. They also tend to be found singly or in pairs, not in flocks like the American Pipit. They are true birds of the shortgrass prairie, and have declined as this native habitat has been converted to agricultural land. While normally found on the ground, they perform one of the longest flight displays of any bird.
Habitat:
Strongly prefers shortgrass prairie, avoiding brushy areas or cultivated fields.
Diet:
Summer diet in South Dakota is primarily insects, but they will also feed on the seeds of grasses and weeds. The winter diet includes a greater proportion of seeds.
Behavior:
Forages on the ground in search of seeds and insects, usually by themselves.
Nesting:
June and July
Song:
Series of descending tinkling notes.
Migration:
Summers in the northern Great Plains and southern Canada. Winters in Texas and Mexico.
Conservation Status: Has declined throughout much of its historic range due to habitat loss as agricultural lands replace native prairie. Grazing activity and other land management activities on remaining grasslands also threaten the species. The species has recently been declining at a rate of over 20% per decade, and as a result, the IUCN currently classifies Sprague's Pipit as a "vulnerable" species.
Photo Information:
September 25th, 2011 -- Fort Pierre National Grasslands, Richland Wildlife Area -- Terry Sohl