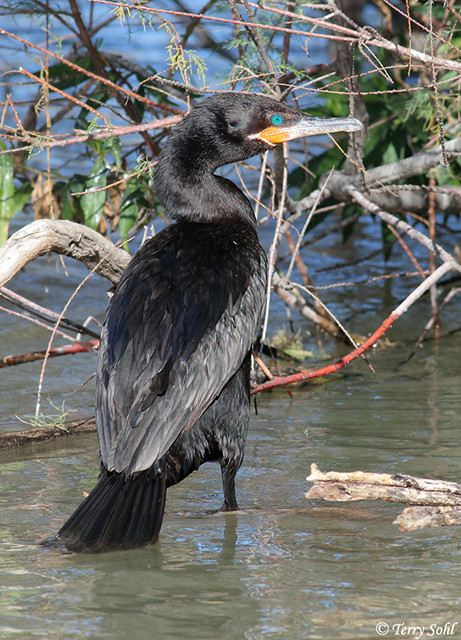 The Neotropic Cormorant is very similar to the Double-Crested Cormorant, and is sometimes found with them. Neotropic Cormorants are found throughout the American Tropics up through Texas, but have been expanding their range northward in recent decades. They are formerly known as the Olivaceous Cormorant.
Habitat:
Found both in coastal waters and inland fresh water or brackish water. May use a wide variety of aquatic habitats.
Diet:
Mostly small fish, also frogs and tadpoles, insects, and crustaceans.
Behavior:
Forages by diving from the surface and swimming underwater after prey, propelled by its feet. Groups of the species sometimes forage cooperative, driving fish into shallow water.
Breeding:
Non-breeder in South Dakota
Song:
Occasional grunts and croaks.
Migration:
Generally a permanent resident throughout its range. Normally found in the extreme southern U.S. and Mexico, the Neotropic Cormorant is expanding its range northward, but is still a very rare visitor to South Dakota.
Conservation Status:
Declined sharply in the mid 20th century, but has since recovered. Still increasing its inland range northward.
2) Audubon Guide - Neotropic Cormorant
3) Whatbird.com: Neotropic Cormorant
Photo Information:
Photo courtesy of
George Jameson