Eastern Spot-billed Duck - Anas zonorhyncha
Eastern Spot-billed Duck Range Map

Click here to return to the species description page
The Eastern Spot-billed Duck is only an extremely rare vagrant to North America, with just a handful of sightings in the Aleutian Islands. No attempt will be made to update this map for any future sightings of the species.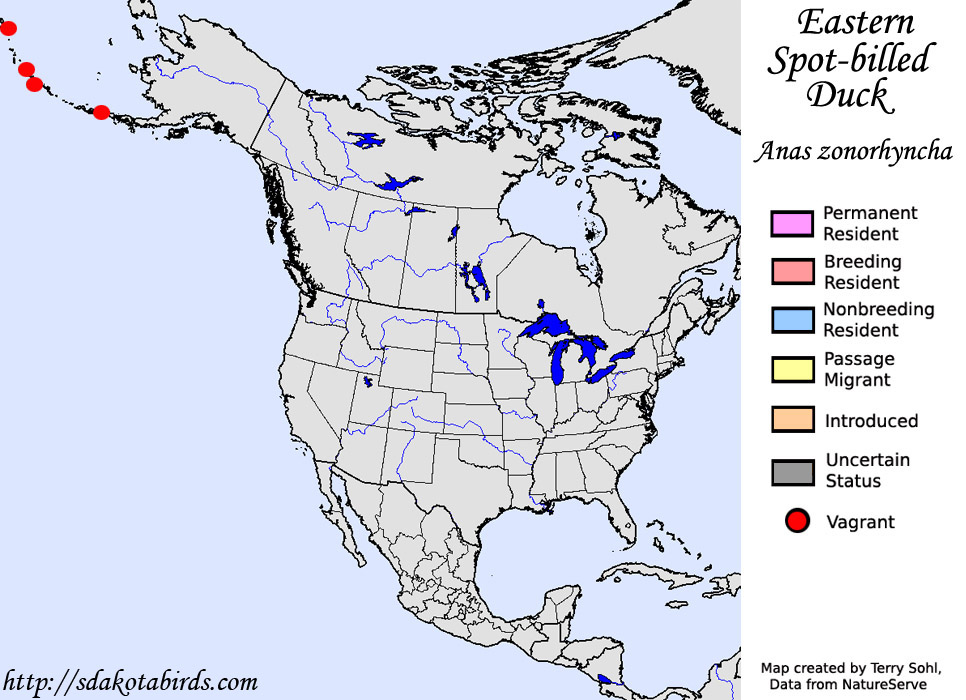 ALL SPECIES MAPS ON THIS PAGE ARE THE PROPERTY OF SOUTH DAKOTA BIRDS AND BIRDING, and may not be used, copied, or distributed on any other website, blog, or other distribution media without written approval by the site owner. EMAIL IF YOU WISH TO USE THIS RANGE MAP IN ANY WAY.
Map created with ArcGIS. Range map information for each species obtained from Ridgely, R.S., T.F. Allnutt, T. Brooks, D.K. McNicol, D.W. Mehlman, B.E. Young, and J.R. Zook. 2003. Digital Distribution Maps of the Birds of the Western Hemisphere, version 1.0. NatureServe, Arlington, Virginia, USA.


Use the following Google dialogue to search this South Dakota Birds and Birding site:
Custom Search
SOUTH DAKOTA BIRDS AND BIRDING - LOCATIONS OF WEBSITE VISITORS
Please mail any comments/suggestions/additional links for this page to: DakotaBirder