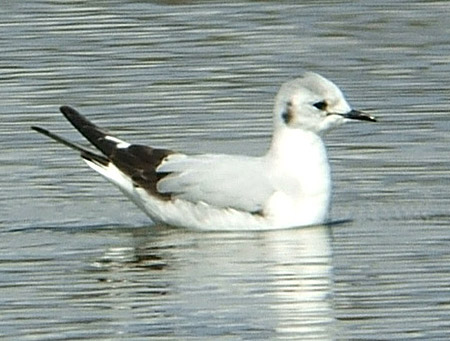 The Little Gull is a fairly recent arrival in North America, having invaded from Eurasia during the 1900s. The first documented breeding on the continent occurred in 1962, and small numbers now breed around the Great Lakes and Hudson Bay. It's unclear at this time whether Little Gull's have become established and have self-sustaining breeding populations in North America, or if they rely on incoming birds from Eurasia to sustain the population. The photo on the right is of a first-summer bird.
Habitat:
Found around low marshy areas in and around inland lakes during the summer breeding season. During the winter, most winter along the coastlines.
Diet:
Primarily feeds on insects and insect larvae in summer. Also will feed on small crustaceans and mollusks, spiders, marine worms, and small fish.
Behavior:
Often feeds while in flight, flying slowly and dipping down to the water's surface when food is spotted. Will also feed on land, or by wading and swimming in shallow water.
Breeding:
Non-breeder in South Dakota
Song: A soft kek-kek-kek-kek.
Migration:
The few in North America primarily summer around the Great Lakes and Hudson Bay, with most migrating to the Atlantic coast in winter.
Status:
Populations in North America are still very small, and its not clear whether there's currently a self-sustaining breeding population on the continent, or if most of the small numbers of birds here are migrants from Eurasia.
3) Audubon Guide - Little Gull
Photo Information:
April 19th, 2006 - St. Mary's Wetland, Northumberland, UK - Source: Wikipedia Commons