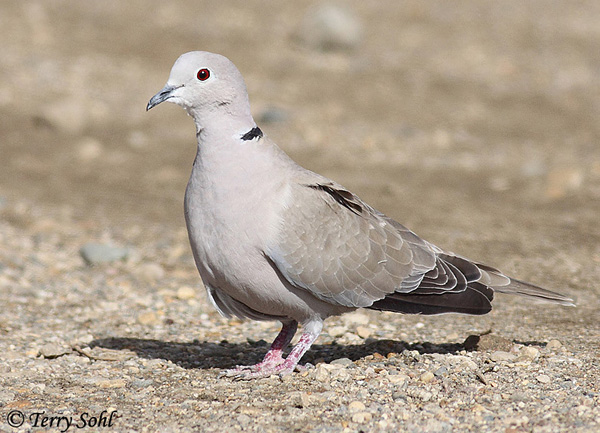 The next big successful "exotic" species (ala the House Sparrow or European Starling) accidentally introduced into the United States may well be the Eurasian Collared Dove. After being introduced into the Bahamas in the mid 1970's, they rapidly spread into the southeastern U.S. and continue to grow in numbers and range. There is precedence, as this bird originally from the Middle East spread rapidly throughout Eurasia during the 20th century. Like the House Sparrow, they are often found in the vicinity of human activity from which they definitely benefit.
Habitat:
Semi-open habitat, most often around residential areas or farmland. Has adapted to a wide variety of habitats in its spread across the United States.
Diet:
Primarily feeds on seeds, including waste grain. Will also occasionally feed on berries and insects.
Behavior:
Primarily forages by walking along the ground. Typically a gregarious species, foraging in flocks except during the breeding season.
Nesting:
May through August
Song:
Repetitive 3-syllable cooing.
Migration:
Generally a permanent resident throughout its range.
Feeders:
Will attend for various seeds and cracked corn.
Conservation Status:
Expanding in numbers and range throughout much of the United States.
2) Audubon Guide - Eurasian Collared Dove
3) WhatBird - Eurasian Collared Dove
Photo Information:
March 31st, 2012 - Oldham, South Dakota -- Terry Sohl
Additional Photos:
Click on the image chips or text links below for additional, higher-resolution Eurasian Collared Dove photos.