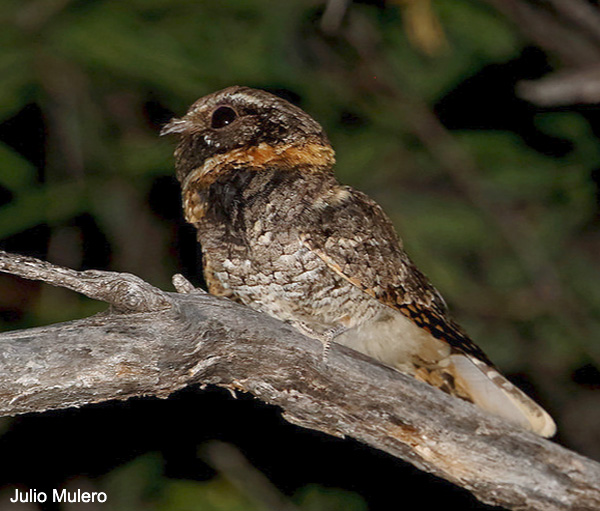 The Buff-collared Nightjar is similar to other nightjars in overall appearance, with a dark body with various brown, whitish, and black mottling. Their trademark buff-colored collar makes them easy to distinguish from other nightjars found in their range. They are found throughout dry woodlands and forest clearings of western Mexico, and were unknown in the United States until 1958.; However, since then they have occasionally been found as summer breeding birds in far southeastern Arizona and, more rarely, in southwestern New Mexico. Even there they are generally rare, with only a handful found each breeding season.
Habitat:
Found in dry woodlands and forests, including forest edges and scrubland. In the US portion of their range, they are found in dry, low- and mid-elevation canyons, in areas with acacia, mesquite, and other shrubland.
Diet:
Feeds on a insects
Behavior:
Nocturnal, feeding on insects at night, using it's wide, gaping mouth to scoop up insects while in flight. Foraging flights are made from observation posts on the ground, or in a shrub or tree.
Nesting:
The nest of a Buff-collared Nightjar is placed on the ground. They often simply use a dry shady patch of bare dirt, or an area of fallen leaves. They lay one or two eggs, with the female doing all the incubation. The eggs hatch after about 3 weeks.
Song:
The song of a Buff-collared Nightjar is a fast series of rising "kuk-kuk-kuk" notes, ending with a more complex three- or four-note phrase.
Migration:
Birds in most of the Mexican range are permanent residents, although some may disperse short-distances after breeding (particularly to lower elevations). Those in the far northern part of their range, including those found in the United States, are only summer breeders and move southward for the winter.