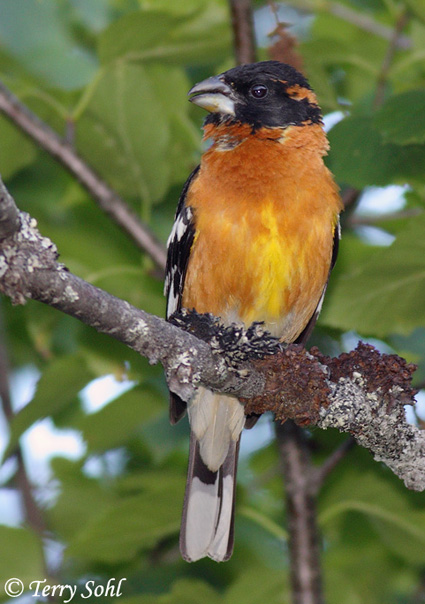 Black-headed Grosbeaks can be a common sight in the western U.S., primarily in and around deciduous woodlands. They can be quite tame, and in some areas have even been known to allow the patient birder to hand-feed them. Black-headed Grosbeaks are one of the very few birds that will consume Monarch Butterflies, which normally are too noxious for birds to consume. A male is shown in the photo on the right. A photo of a female can be found at the bottom of the page.
Habitat:
Primarily deciduous forests, woodlands, and groves. Sometimes found in mixed forest, rarely in pure coniferous forest.
Diet:
Insects, seeds, fruits, and berries. Feeds heavily on insects in the summer, as well as spiders and snails. Will eat a variety of seeds and berries, as well as cultivated fruit.
Behavior:
Primarily forages by moving through branches and foliage of shrubs and trees, gleaning insects from foliage and taking fruit. Will also forage on the ground, or occasionally by flying out and capturing insects in mid-air.
Nesting:
June and July
Song: A fast, high-pitched warbling. Also a high crisp pik call.
Migration:
Summers throughout most of the western U.S. Winters in Mexico and points south.
Bird Feeders:
Will attend feeders for various seeds.
Conservation Status:
Numbers appear to be stable.
2) WhatBird - Black-headed Grosbeak
3) Audubon Guide - Black-headed Grosbeak
Photo Information:
July 1st, 2011 - Glacier National Park, Montana - Terry Sohl
Additional Photos:
Click on the image chips or text links below for additional, higher-resolution Black-headed Grosbeak photos.