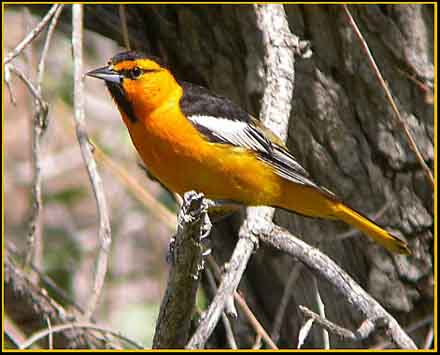 This bird was formerly considered to belong to the same species as the more eastern Baltimore Oriole, under the combined name of "Northern Oriole". The Bullock's Oriole is the "western" species, found in the western half of the continent, while the Baltimore Oriole is found in the East. Many South Dakota birds are variously intermediate between the two extremes, as the two species interbreed where their ranges come into contact.
Habitat:
Areas of forest edge or open forest, such as woodlands, shelter belts, isolated tree groves, or residential areas.
Diet:
Primarily feeds on insects during the summer months. Will also eat berries and fruits.
Behavior:
Forages by climbing and flitting through the foliage and branches of trees and shrubs, gleaning insects from vegetation surfaces, as well as flying out to capture nearby insects in mid-air.
Nesting:
June and July in South Dakota. The nest is a large hanging pouch, built of grasses, weed stems, and other long material that can be woven into the nest structure. The female usually lays 4 or 5 eggs, and she alone incubates them. Once the eggs hatch, both parents help to feed the nestlings. The young leave the nest about 2 weeks after hatching.
Song:
Short series of nasal whistled notes.
Migration:
Neotropical migrant. Summers throughout most of the western United States, summers in Mexico and points south.
Similar Species: Baltimore Oriole. Click here
to see a comparison between the two.
Bird Feeders:
Will attend feeders for oranges and other fruit, as well as nectar.
2) WhatBird - Bullock's Oriole
3) Audubon Guide - Bullock's Oriole
Photo Information:
June 28th, 2003 -- Red Canyon in Fall River County --
Doug Backlund