South Dakota Birding"Hotspot"
Gavin's Point Dam Area
Photo Location#6 -- Forested Bluff
This little road goes past the golf course and a high, open grassy area on the north side of the road. The fenceline along the north of the road has been a great place to find Eastern Bluebirds. As the road continues towards the parking area, you start to get into more and more trees and brush. There's an area of shrubby sumac and cedars on the south side of the road that's been great for me at times, especially in fall when there's a heavy berry crop on the cedars. At the parking area, there's a trail that heads down towards the little cut-off pond area that you see in the lower-left quadrant of the aerial photo below. It's a nice little trail through forest habitat.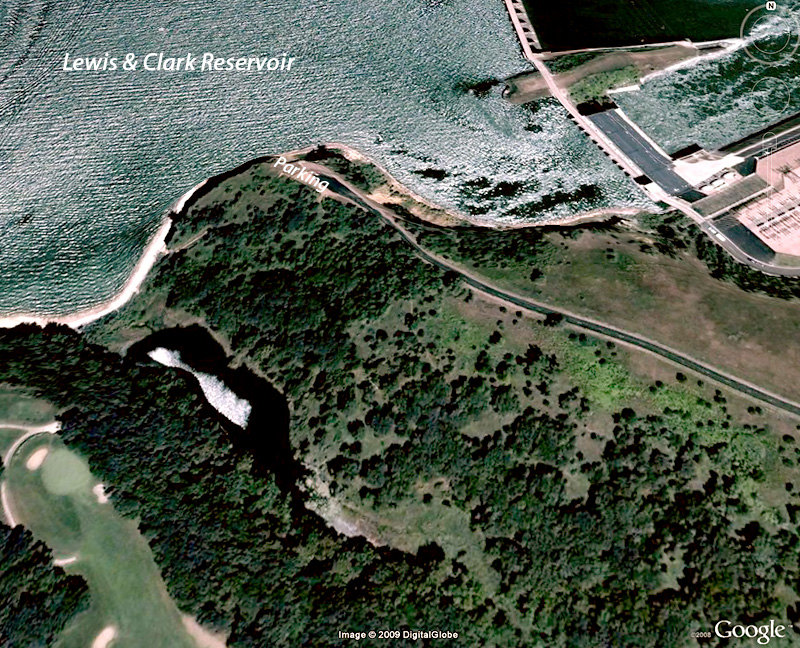 Use the following Google dialogue to search this South Dakota Birds and Birding site:
Custom Search
Or, click on one of the following links to visit the main sections of South Dakota Birds and Birding:
SOUTH DAKOTA BIRDS AND BIRDING - LOCATIONS OF WEBSITE VISITORS

Please mail any comments/suggestions/additional links for this page to: Terry L. Sohl