South Dakota Birds and Birding - Home Page
South Dakota Birding"Hotspot"
Fort Pierre National Grasslands
Location#1 -- "Pheasant Farm"
The "Pheasant Farm" itself is shown at the bottom left of the Google image below, about 1/2 a mile south of where County Line Road jogs back to the East. Gyrfalcons can often be found in this general vicinity in the winter. Other raptors are commonly found in the area, especially the ever-present winter Rough-legged Hawks. Keep an eye out on the fence posts and telephone poles in this area. Also note the schoolhouse itself has a chimney, which often seems to have a raptor sitting on top of it. On that one chimney, I have seen Gyrfalcons, Prairie Falcons, Golden Eagles, Rough-legged Hawks, and Ferruginous Hawks.
The attraction for raptors in the area is the abundance of prey species, and there are definitely large numbers of Sharp-tailed Grouse and Ring-necked Pheasants in this area.
To find the area by GPS coordinate, the geographic coordinates of the jog in the road are 44° 11' 41.9" N, and 100° 13' 28.2" W.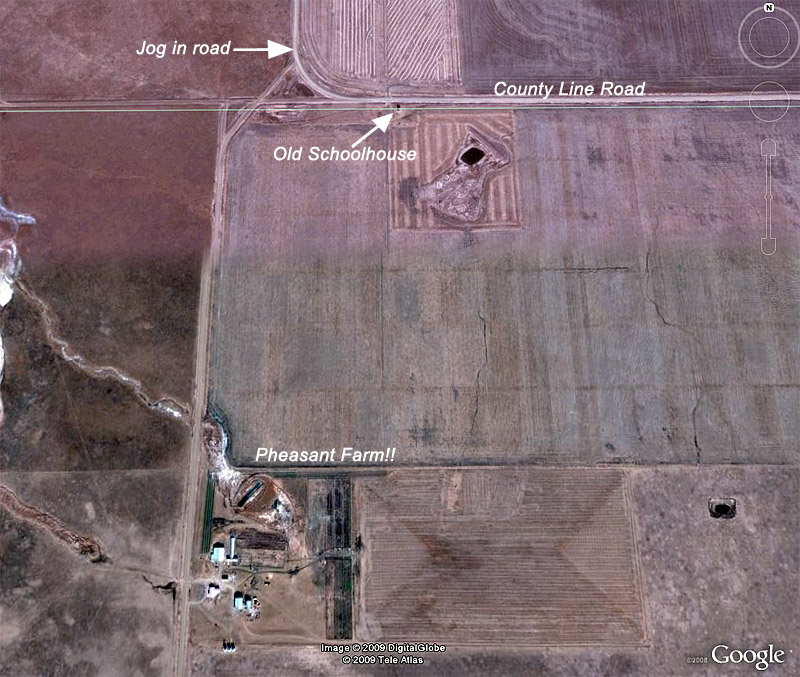 Use the following Google dialogue to search this South Dakota Birds and Birding site:
Custom Search
SOUTH DAKOTA BIRDS AND BIRDING - LOCATIONS OF WEBSITE VISITORS
Please mail any comments/suggestions/additional links for this page to: Terry L. Sohl