South Dakota Birds and Birding - Home Page
South Dakota Birding"Hotspot"
Wall Lake
Location #3 - Beach Area
The overhead image below shows the beach area on the southern edge of Wall Lake. If you look closely, you'll see the parking lot has a number of cars, and that you can even see a number of people on the beach itself. Throw in the few boats you see in the water here and the residential area and pool on the west side of the beach, and you're probably wondering why this location is identified as a birding "hotspot".
In summer, particularly during the weekend or a nice sunny afternoon, this isn't a location you'd want to bird. There will be people on the beach, and there will be few if any birds. However, during spring and fall migration, this can be a great place to bird. The people are gone, the area is pretty quiet, and the birds love not only the open water of Wall Lake, but the sandy beach and shallow water around it. During migration, a view from the beach will often show hundreds if not thousands of gulls, lounging out in the water, flying overhead, or poking around the beach itself. The Sioux Falls dump is only a mile or two away, and gulls are often streaming back and forth between Wall Lake and the dump. I have many photos of gulls from this beach, and during migration you never know what rarity might show up. The Sabine's Gull photo (below) is the only Sabine's Gull I've seen in South Dakota, and it was taken right from the Beach. Franklin's, Bonaparte's, and Ring-billed Gulls are often common around the beach in migration, but I've also seen Lesser Black-backed and California Gulls here. The sandy shoreline and shallow water also can attract shorebirds. I've never seen then in huge numbers on the beach, but particularly in spring migration, you'll often see a few on the beach. Ruddy Turnstones and Sanderlings, two species that are often found on sandy shores, are usually tough to come by in South Dakota, but I've seen them here on multiple occasions. On more than one occasion I've also seen Osprey searching for prey in the beach area.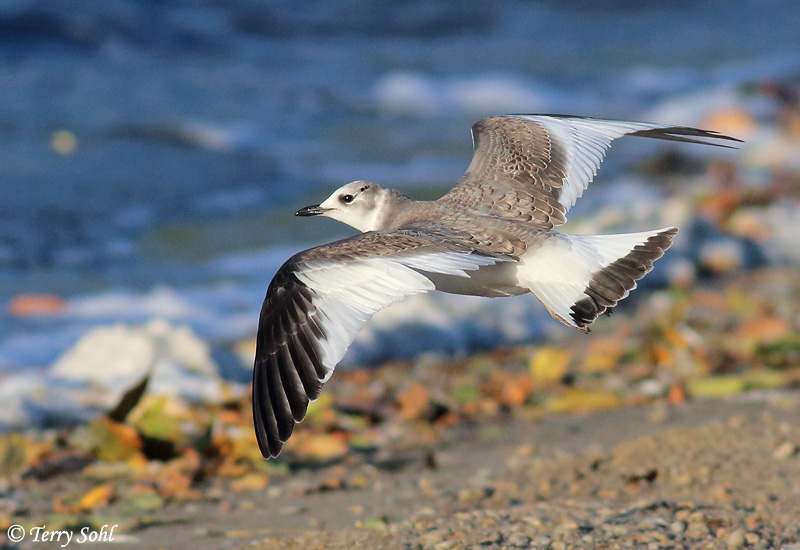 Use the following Google dialogue to search this South Dakota Birds and Birding site:
Custom Search
SOUTH DAKOTA BIRDS AND BIRDING - LOCATIONS OF WEBSITE VISITORS
Please mail any comments/suggestions/additional links for this page to: Terry L. Sohl