South Dakota Birds and Birding - Home Page
South Dakota Birding"Hotspot"
Beaver Creek Nature Area
Photo Location #4 - "Spook Road"
When headed to Beaver Creek Nature Area, most people drive in from the west on 264th street. Locally, this stretch is called "Spook Road". Headed east from Highway 11, Spook Road has several stream crossings, and goes past quite a bit of lowland riparian forest land. There really are no huge unbroken forest stretches along Spook Road, but the thin riparian corridors next to the road, along with other scattered patches of trees, definitely attract quite a few birds.
The aerial photo below shows Spook Road from Beaver Creek on the east side, westward for a little over a mile. As you're headed towards Beaver Creek on Spook Road, you'll cross bridge#1 below. The owners of the land on the north side of the road are birders, and are preserving the land for habitat. Right at the bridge are some small areas of riparian trees and other vegetation. It's worth a stop to look here for songbirds in the trees and shrubs. It's the perfect kind of semi-open habitat that Eastern Bluebirds love, and in summer you'll often see them around here. Continuing eastward on Spook Road from bridge #1, you'll pass in close proximity to more shrubby and forested areas. Anywhere along here can be good both in migration and during the summer months.
Closer to Beaver Creek, as you cross the intersection with 483rd, the birding quality has lessened recently. This last stretch of road, from the intersection to the entrance of Beaver Creek itself, used to be lined with trees, and used to be quite good birding. Most of the trees along this section have now been removed (supposedly because it was a safety concern with trees so close to the road). There are still some scattered shrubby and tree areas near Bridge 2, just west of the entrance to Beaver Creek, but even here, the vegetation closest to the road has been removed. Spook Road, once one of my favorite birding locations (particularly since it's only a few miles from home), seem to become less and less good for birding as more and more vegetation is removed.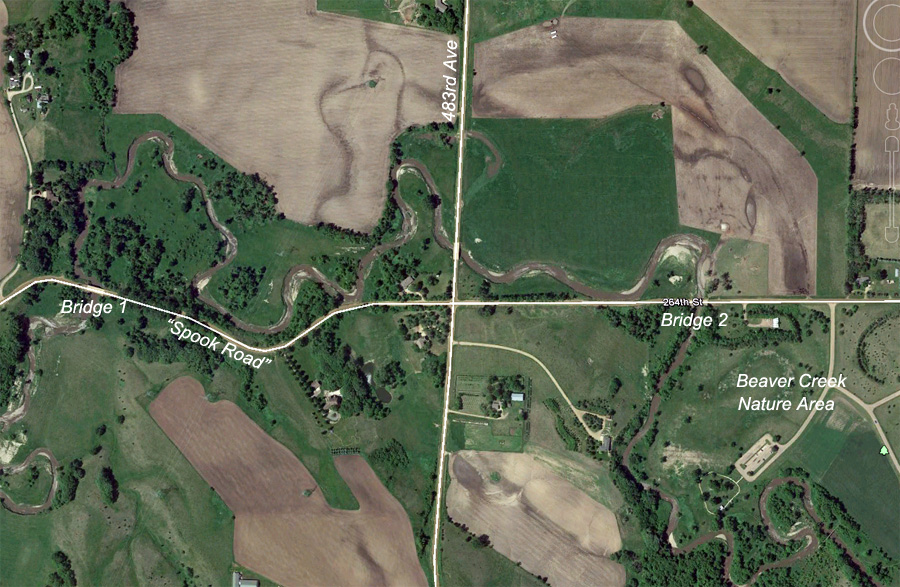 Keep your eyes out for migrating warblers here in the spring...you never know what species you might see.

Use the following Google dialogue to search this South Dakota Birds and Birding site:
Custom Search
SOUTH DAKOTA BIRDS AND BIRDING - LOCATIONS OF WEBSITE VISITORS
Please mail any comments/suggestions/additional links for this page to: Terry L. Sohl