Northern Gannet Photos

I had some time one February morning to spend at Bon Secour National Wildlife Refuge on the coast of Alabama. There were tornado warnings the night before, and there was a very strong northwest wind blowing. I went to the tip of the peninsula/barrier island jutting out into the mouth of Mobile Bay..."Fort Morgan" lies at the very tip. It was a very dark, cloudy, blustery morning, but as I approached, I could see scads of birds near land. Many, many dolphins were actively working the frothy surf, and there were plenty of birds wherever the dolphins were working. Sometimes it was within 20 yards of shore.
The Northern Gannets tended to stay the furthest out from shore of any of the birds, but every once in a while, one would venture within camera range, including one juvenile who flew right over my head. Very cool to see them so close.
Click on the thumbnail for a high-res view of the photograph. Click here for more information about this species.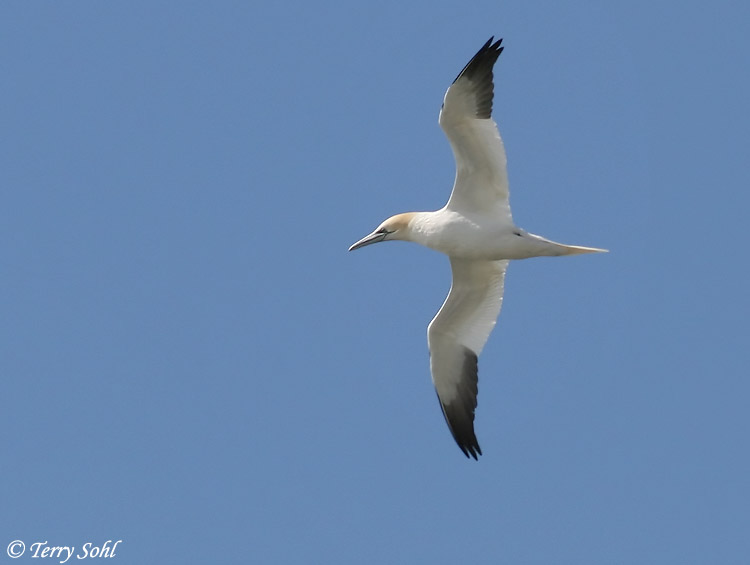 Northern Gannet #2 shown above
All photos copyrighted! Click for information on commerical usage, or usage for other personal purposes.
Use the following Google dialogue to search this South Dakota Birds and Birding site:
Custom Search
SOUTH DAKOTA BIRDS AND BIRDING - LOCATIONS OF WEBSITE VISITORS
Please mail any comments/suggestions/additional links for this page to: Terry L. Sohl