Chestnut-collared Longspur Photos
Photography by Terry Sohl
My Favorite: As you can see below, not a species I have many photos of! Chestnut-collared Longspurs are primarily found west and north from where I live in the southeastern corner of the state, with at least a 2 1/2 hour drive before you could reasonably expect to see one. They're also only around in the summer, and I'm in the central part of the state much more in winter, when there are large numbers of winter raptors around. Put it all together, and I only have two (good) photos right now of the species! My favorite of the two is the photo of the one below sitting on a barbed wire fence. From Harding County in the far northwestern corner of the state in 2011.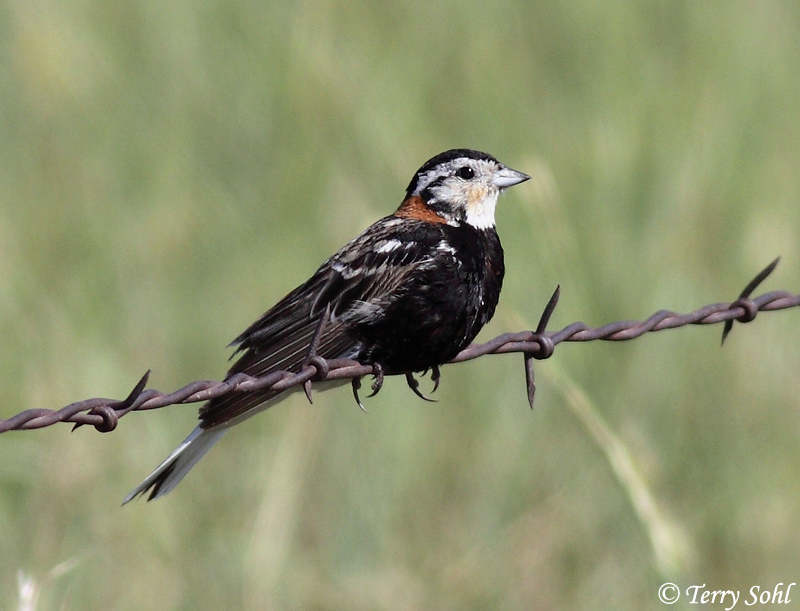 | | | |
| --- | --- | --- |
| | | |
| | | |
| July 12th, 2011 | July 5th, 2020 | |
| Harding County, South Dakota | Sully County, South Dakota | |
| Longspur perched on barbed wire fence | Longspur getting a drink at a shallow wetland | |
Click here for the species description page for the Chestnut-collared Longspur
All photos copyrighted! Click for information on commerical usage, or usage for other personal purposes.
Use the following Google dialogue to search this South Dakota Birds and Birding site:
Custom Search
SOUTH DAKOTA BIRDS AND BIRDING - LOCATIONS OF WEBSITE VISITORS
Please mail any comments/suggestions/additional links for this page to: Terry L. Sohl