Mandarin Duck
Photo of the Week (November 22nd, 2020)
(archive photos of the week here)
This duck is probably the most widely photographed individual bird in the history of South Dakota! A Mandarin Duck drake showed up at a small pond on the west side of Yankton, South Dakota in October, and has drawn visitors from all over the state, and even beyond. Mandarin Duck sightings in the US are usually considered to be escapees from captivity. However, there are scattered locations in the US where there are small breeding populations that have been established.

Regardless of where it came from...this is one stunning bird! After 3 weeks of seeing photos of it on social media, I finally went down to see it on November 15th. I wasn't disappointed! As usual, it was hanging out with a Wood Duck drake that it seems to have bonded to. Both of them hung out in one corner of the pond, and where quite approachable. They were pretty casual and calm most of the time, but that behavior changed whenever some of the mallards on the pond would get close. Then both of them seemed quite defensive, chasing the mallards away if they got too close to "their" spot.
It was watching that behavior for awhile that got me this photo! In the morning light, there was one small spot of the pond that had a very cool, yellow reflection on it from a nearby sign. I wanted to try to get the Mandarin in that lighting, so simply plopped myself down on the ground in an appropriate spot, and waited for the next time some Mallards got too close! Sure enough, a pair of Mallards approached, and the Mandarin led the charge to chase them out of the territory.

Incredibly gorgeous duck...very unique water and reflection...some nice splashing as it makes chase...not only is this the photo of the week, this just became one of my favorite photos of all time.
Click here to see more information about Mandarin Ducks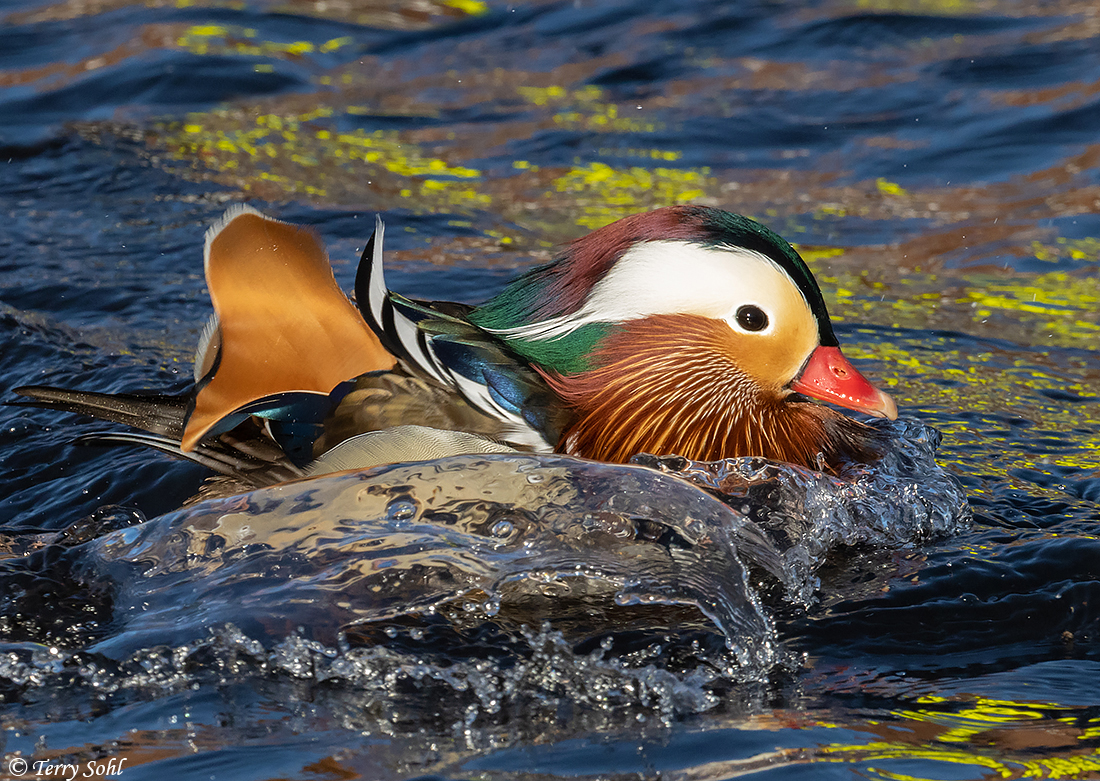 Contact me if you'd like to order a print of this photo - Multiple sizes, matting options available
All photos copyrighted! Click for information on commerical usage, or usage for other personal purposes.
Use the following Google dialogue to search this South Dakota Birds and Birding site:
Custom Search
SOUTH DAKOTA BIRDS AND BIRDING - LOCATIONS OF WEBSITE VISITORS
Please mail any comments/suggestions/additional links for this page to: Terry L. Sohl