Western Grebe
Photo of the Week (July 19th, 2020)
(archive photos of the week here)
Lake Whitewood in May and June. The big lake doesn't seem to get much attention compared to its big brother to the west, Lake Thompson. I just rarely see fishermen or boats on the lake, which is perhaps why I don't often see breeding Western Grebes on Lake Thompson, but they are EVERYWHERE on Lake Whitewood. May and June are just...magical, because on the southwest corner of the lake, the grebes sometimes gather in big concentrations (think 100+ pairs all close to the road). It's a perfect location to watch their incredible courtship "dances", as well as their adorable habit of carrying young chicks on their back.
On July 12th, 2020 I visited Lake Whitewood, hoping against hope that it wasn't too late and that there were still some grebe chicks small enough to be toted around like a backpack. I wasn't encouraged at first, because as I arrived I saw probably 200 grebes...adults, and free-swimming young, many of whom were already nearing the size of the adults. It was really too late for most birds, but among the throng of grebes...THERE! A lone bird with a lone chick on its back! My strategy...park on the road, and wait! The paved highway cuts right through the lake, and if you stop and wait a little while, the birds forget about the person in the car. It was a strategy that worked quite well, as it didn't take long before the birds again started swimming and feeding near the road.
This is not only the photo of the week, it may be one of my favorite photos of all time! It may LOOK like a backseat driver telling mom to hurry up! But in fact, the chick was responding to dad, who is out of the frame. He'd just caught a little minnow and was swimming towards Mom and Junior to feed Junior breakfast. Hence what looks like a primal scream.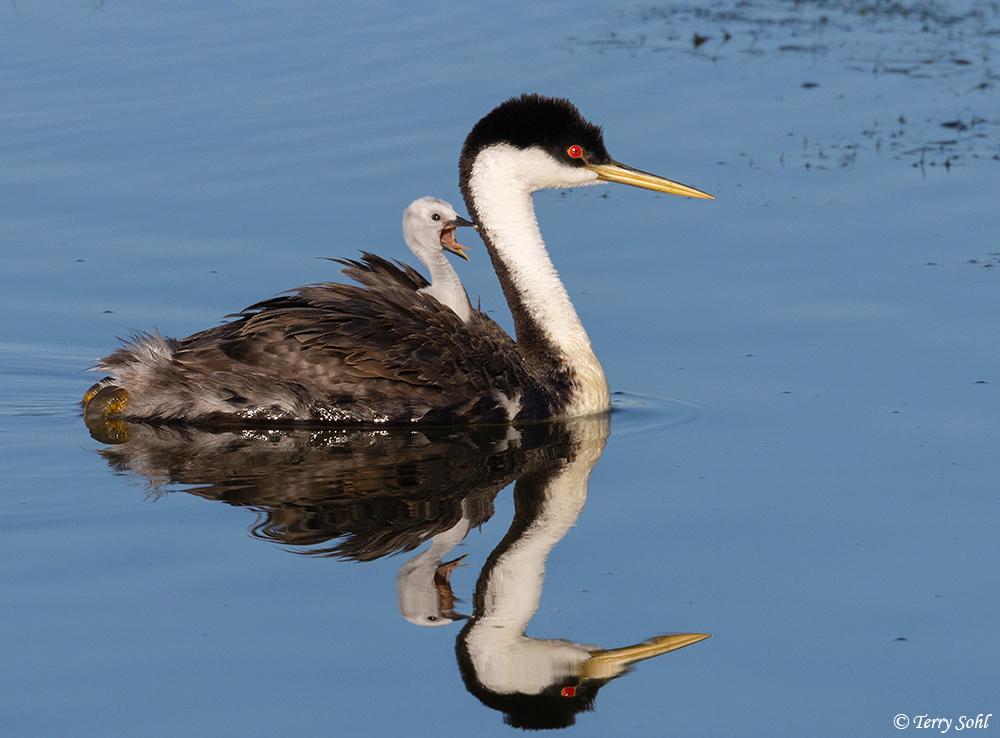 Contact me if you'd like to order a print of this photo - Multiple sizes, matting options available
All photos copyrighted! Click for information on commerical usage, or usage for other personal purposes.
Use the following Google dialogue to search this South Dakota Birds and Birding site:
Custom Search
SOUTH DAKOTA BIRDS AND BIRDING - LOCATIONS OF WEBSITE VISITORS
Please mail any comments/suggestions/additional links for this page to: Terry L. Sohl