Common Nighthawk
Photo of the Week (July 5th, 2020)
(archive photos of the week here)
Common Nighthawks are a species you see in eastern South Dakota, but ALWAYS in flight, where their darting, erratic foraging and flight patterns make them damned near impossible to get a good photo of. During the day they often roost, but in an area with trees, they're usually hidden by perching on a tree branch and blending in. In western South Dakota, trees can be few and far between! You thus sometimes see them perched on fence posts, or in this case, on the barbed wire itself. I was tickled pink to not only get a photo of one so close, but to catch him while he was doing his distinctive call. From June 28th, near Wind Cave National Park in western South Dakota.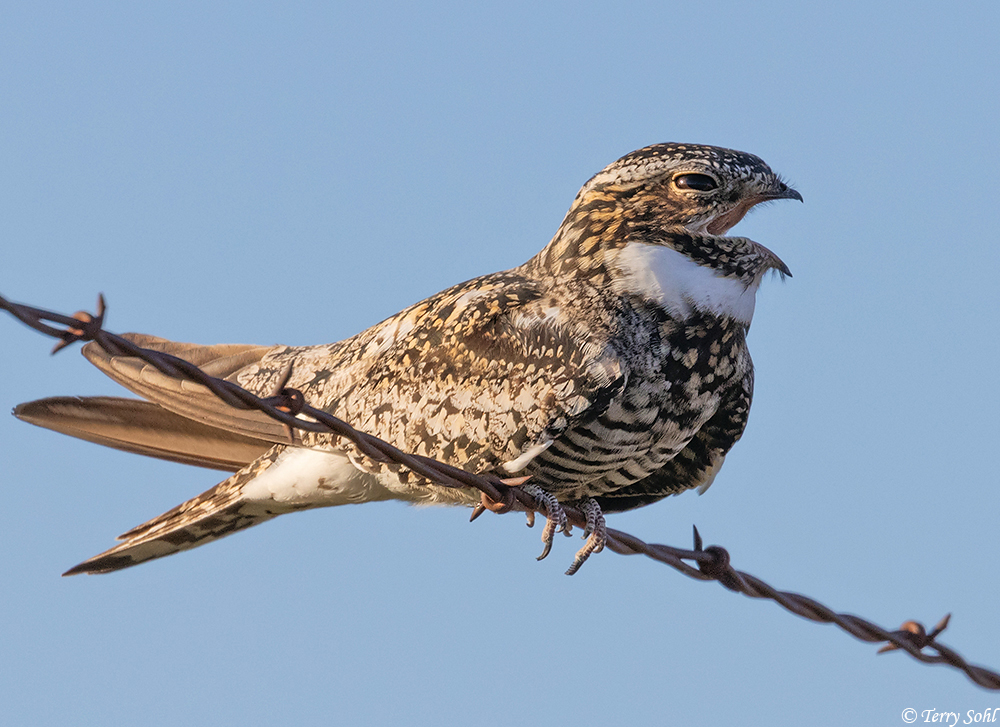 Contact me if you'd like to order a print of this photo - Multiple sizes, matting options available
All photos copyrighted! Click for information on commerical usage, or usage for other personal purposes.
Use the following Google dialogue to search this South Dakota Birds and Birding site:
Custom Search
SOUTH DAKOTA BIRDS AND BIRDING - LOCATIONS OF WEBSITE VISITORS
Please mail any comments/suggestions/additional links for this page to: Terry L. Sohl