American Bittern and Yellow-headed Blackbird
Photo of the Week (May 12th, 2019)
(archive photos of the week here)
A new instant favorite for me! I was driving west of Sioux Falls on Saturday, May 11th, when I first saw an American Bittern standing next to a cattail marsh, right by the road. I cautiously approached and pulled over, with the bittern standing perfectly still, "hiding" as bitterns do. While sitting there enjoying him from close range, another American Bittern started its unique unk-a-lunk-a song. After 10 minutes or so the bittern had enough of me at such close range, so it flew perhaps 20 yards out into the cattail marsh, landing on a likely muskrat lodge. While standing there, a Yellow-headed Blackbird would occasionally fly into the frame. I loved being able to grab a shot of both birds that SO typify cattail marshes around here.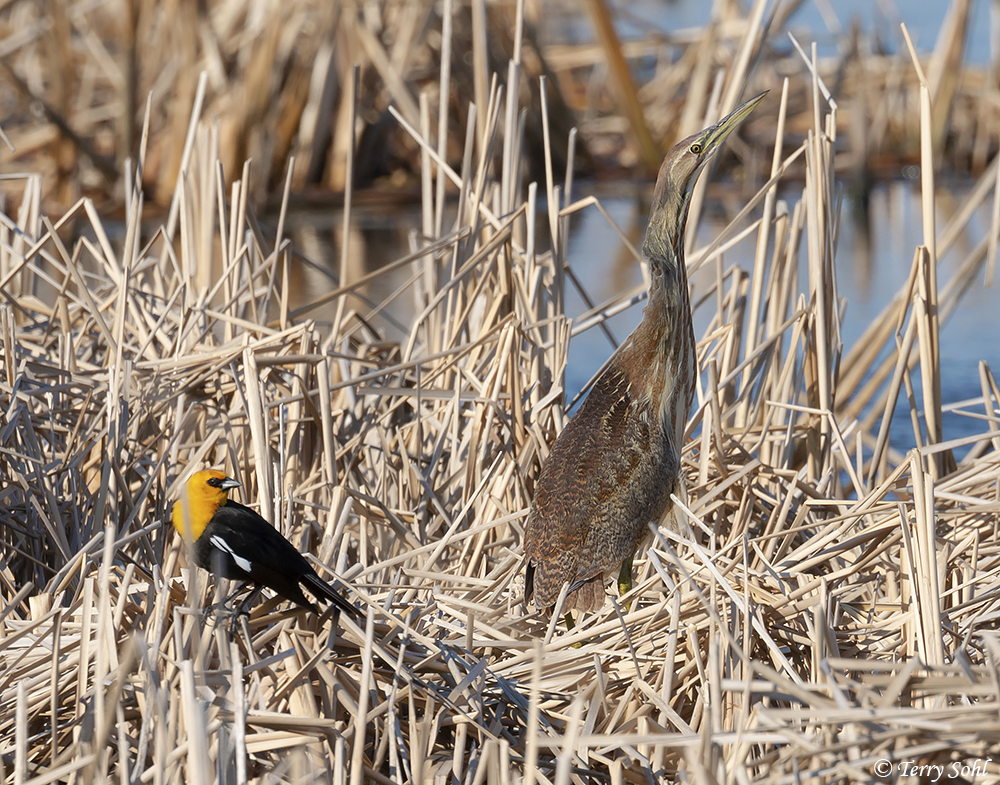 Contact me if you'd like to order a print of this photo - Multiple sizes, matting options available
All photos copyrighted! Click for information on commerical usage, or usage for other personal purposes.
Use the following Google dialogue to search this South Dakota Birds and Birding site:
Custom Search
SOUTH DAKOTA BIRDS AND BIRDING - LOCATIONS OF WEBSITE VISITORS
Please mail any comments/suggestions/additional links for this page to: Terry L. Sohl