Swainson's Hawk
Photo of the Week (April 9th, 2017)
(archive photos of the week here)
One more week of travel for work means another "historical" photo for a photo of the week. This was taken right during this time of year, in mid-April, 2006. It's a great example of why it's always a good idea to have your camera with you, as you never know what you may come across.
For my first job after grad school, I worked in downtown Washington, D.C. We lived in Laurel, Maryland, and I usually took the B-W Parkway to work. It wasn't a terribly long commute, in terms of distance, but in terms of cars and traffic? My god. The traffic, the mass of humanity, were major driving forces behind our decision to leave the East Coast and return to the Great Plains. Now? The place I work is about 10 miles outside of Sioux Falls, in the middle of nowhere. I often take gravel roads to work, and when I do, I often don't even come across another car. Having the road to yourself means that if you do come across a photo opportunity, it's not a problem to pull to the side of the road, sit there, and snap away. This was a rather gray, gloomy day, but on my way to work I saw a large raptor sitting on a fence post alongside the road. It was a wonderful sign of spring, the first Swainson's Hawk of the year, and a drop-dead gorgeous bird it was. Swainson's Hawks come in different color phases, but it's the lighter-phase birds that are the most common here. This was a beautiful rufous-colored bird, a bird that was also kind enough to sit still for photos from a very close distance, and even provide a nice pose with the one raised foot.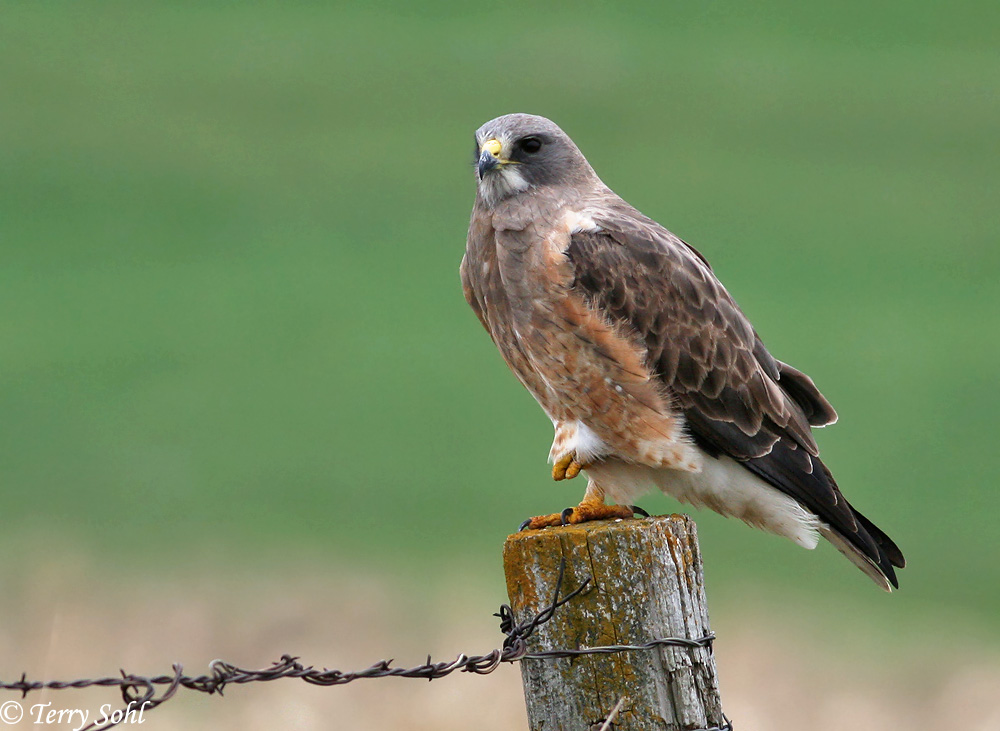 | | | | | |
| --- | --- | --- | --- | --- |
| | | | | |
Contact me if you'd like to order a print of this photo - Multiple sizes, matting options available
All photos copyrighted! Click for information on commerical usage, or usage for other personal purposes.
Use the following Google dialogue to search this South Dakota Birds and Birding site:
Custom Search
SOUTH DAKOTA BIRDS AND BIRDING - LOCATIONS OF WEBSITE VISITORS
Please mail any comments/suggestions/additional links for this page to: Terry L. Sohl