Black-necked Stilt
Photo of the Week (April 2nd, 2017)
(archive photos of the week here)
I've been on travel for much of the last week, no new bird photos to provide, but it's certainly an exciting time of year. Waterfowl migration is still in full swing, and with the start of April comes the start of shorebird migration, and eventually, increasing numbers of songbirds. Looking for shorebirds is one of my favorite activities in April and May, as most of the shorebirds that move through the state are species only seen during migration. We also get such an interesting variety of shorebirds. One never knows what may show up on a given day.
This was from April 2 years ago, in 2015. I was focusing primarily on shorebirds, a day I was finding quite a few shorebirds, but in lower numbers and fewer species than I'd hoped. I was driving north of Sioux Falls in northwestern Minnehaha County when I approached a large shallow lake where I'd had good luck with shorebirds in the past. As I approached, it was immediately evidently there was a lot of activity. Most obvious were dozens of American Avocets in beautiful breeding plumage, one of my favorite shorebirds given their unique appearance. However, amidst all the Avocets was an obvious outlier, a starkly black-and-white Black-necked Stilt. There have been a handful of breeding records in South Dakota, but it's not a species you'd expect to find either in migration or in summer...a real treat on a sunny April's day! I watched the stilt from close range for half an hour, enjoying my time watching and photographing what is still the only Black-necked Stilt that I've seen in this part of South Dakota.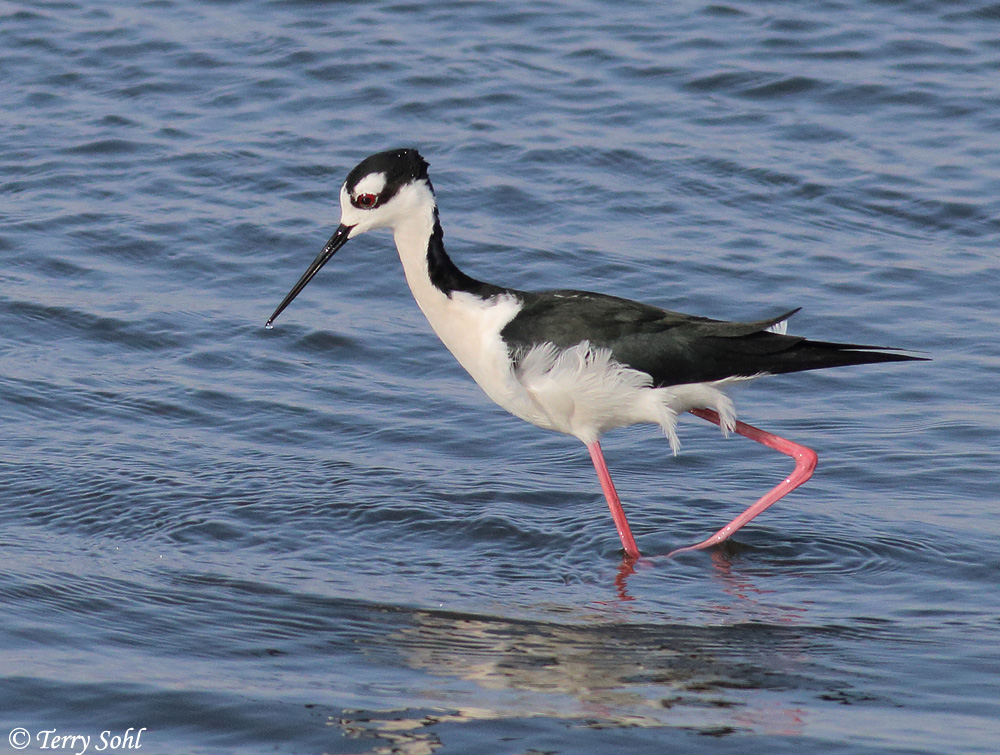 | | | | | |
| --- | --- | --- | --- | --- |
| | | | | |
Contact me if you'd like to order a print of this photo - Multiple sizes, matting options available
All photos copyrighted! Click for information on commerical usage, or usage for other personal purposes.
Use the following Google dialogue to search this South Dakota Birds and Birding site:
Custom Search
SOUTH DAKOTA BIRDS AND BIRDING - LOCATIONS OF WEBSITE VISITORS
Please mail any comments/suggestions/additional links for this page to: Terry L. Sohl