South Dakota Aurora
By 2015 I'd been in South Dakota for 22 years, and I had never seen an aurora in my life. I've gone out a few times to try, particularly in recent years. With phone apps that alert you to favorable conditions, it's less of a guessing game, but even when there's a "strong" solar storm globally, it usually isn't seen as far south as South Dakota.
In September 2015, a bit of serendipity. I was getting up extremely early to head west, to a day of birding in the central part of the state. I got up at 4:00, and as I was eating breakfast I looked at my phone and it said there was as "strong" solar storm globally. Yeah, sure I thought. I did finish eating, grabbed my stuff, and headed out. Lo-and-behold, there actually WAS an aurora visible. This far south, it wasn't the shimmering, moving curtain of light you see in photos and video, but it was still a beautiful treat.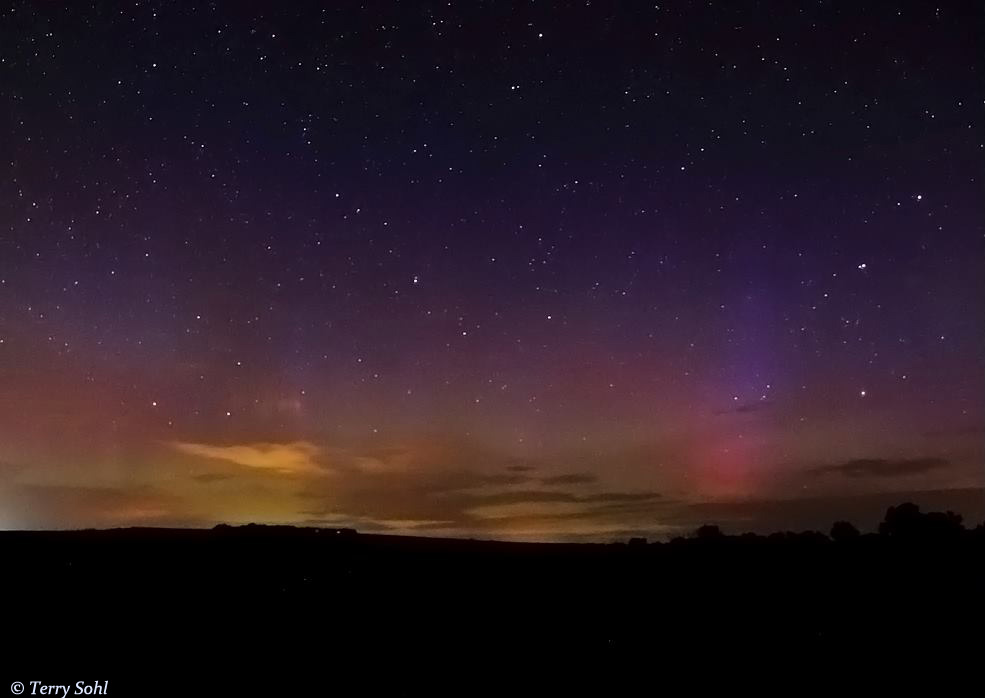 Contact me if you'd like to order a print of this photo - Multiple sizes, matting options available
All photos copyrighted! Click for information on commerical usage, or usage for other personal purposes.
Use the following Google dialogue to search this South Dakota Birds and Birding site:
Custom Search
SOUTH DAKOTA BIRDS AND BIRDING - LOCATIONS OF WEBSITE VISITORS
Please mail any comments/suggestions/additional links for this page to: Terry L. Sohl