South Dakota Birds and Birding - Home Page
South Dakota Birding"Hotspot"
Pierre Oahe Dam Area
Location#3 -- LaFramboise Island Nature Area
This area tends to be pretty active, so it's not an area to get away from folks, at least not near the road. But it can be a very good area to bird. LaFramboise Island is connected to Pierre through a causeway (point 1 below). Some very nice (and covered) fishing docks jut off the eastern side of the causeway. A very strong current also flows under the causeway from the main river channel (west side) to the eastern side, with resulting open water at Point 1 even in the dead of winter. Look on both sides of the causeway for waterfowl and gulls.
Point 2 below is a sandbar in the main river channel. This sandbar often holds large numbers of gulls, and it's worth your time scanning the flocks with binoculars or a scope to see if any rarities are present (they often are!!).
At the end of the drive onto LaFramboise Island is a parking area, and the start of several miles of hiking trails. As with Farm Island, this is a great place to spend some time, and if you hike in a bit, you'll typically not find a lot of company. There's a lot of deciduous forest on the island, with some cedars, and some open areas on the southeastern half of the island.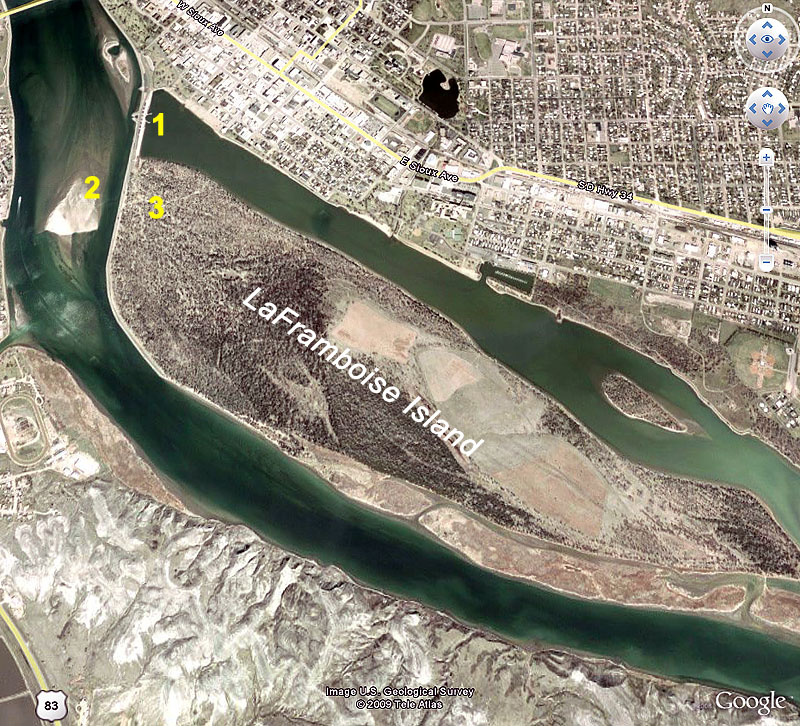 Use the following Google dialogue to search this South Dakota Birds and Birding site:
Custom Search
SOUTH DAKOTA BIRDS AND BIRDING - LOCATIONS OF WEBSITE VISITORS
Please mail any comments/suggestions/additional links for this page to: Terry L. Sohl