Short-eared Owl
Asio flammeus
Owls just seem to have this mythical reputation among birders, and the public in general. When an owl is spotted, and in a social media world, reported through a local list-server or through social media, it's not surprising when quite a few birders travel to that location to look for it. That was the case around New Year's in between 2020 and 2021, when both Short-eared Owls, and a lone Snowy Owl, were being seen west of Brookings, South Dakota.
I'd seen both the Snowy and the Short-eared Owls on January 30th, 2020. My last birding trip of the year, and a great way to end it! However, it was a dreary, cloudy day, and while I got some long-distance views of both species, I didn't get that great of photos. January 2nd, 2021 was my first day where I got out to bird for the year, so what better way to start a birding year than to revisit the owls?
This time the weather was much better, with clear skies and light winds. I arrived an hour before sunset, knowing the Short-eared Owls themselves weren't likely to come out until close to sunset. I found the Snowy Owl immediately, but it was being its normally ornery self, sitting on its favorite fence post a good 1/3rd of a mile from the road. No photo opportunities there! However, about 45 minutes before sunset, I saw my first Short-eared Owl fly over a field quite some distance away. I moved to that location and parked my car with the field to my east, with the thought that should the owls use that field to hunt, I'd have the wonderful, warm lighting of the evening sun at my back.
I chose well! About half an hour before sunset, I saw not one, but three Short-eared Owls seemingly emerge from nowhere, and start their low flights over the field, searching for voles and other critters. They weren't particularly shy, but they were also primarily foraging quite some ways out from the road. However, as I've stated before, birds are pretty forgiving of the presence of a car (as opposed to a free-walking human being), and by simply sitting in my car, they started foraging closer, and closer, and closer to the road. The photo below was captured as one of the owls spotted potential prey in the field below, and dove down for the capture just moments after this photo was taken. It was a successful hunt as well! The owl captured a fat vole, sitting on it for a bit before carrying it off to a perch to consume (could see it with the vole when it took flight and left the area).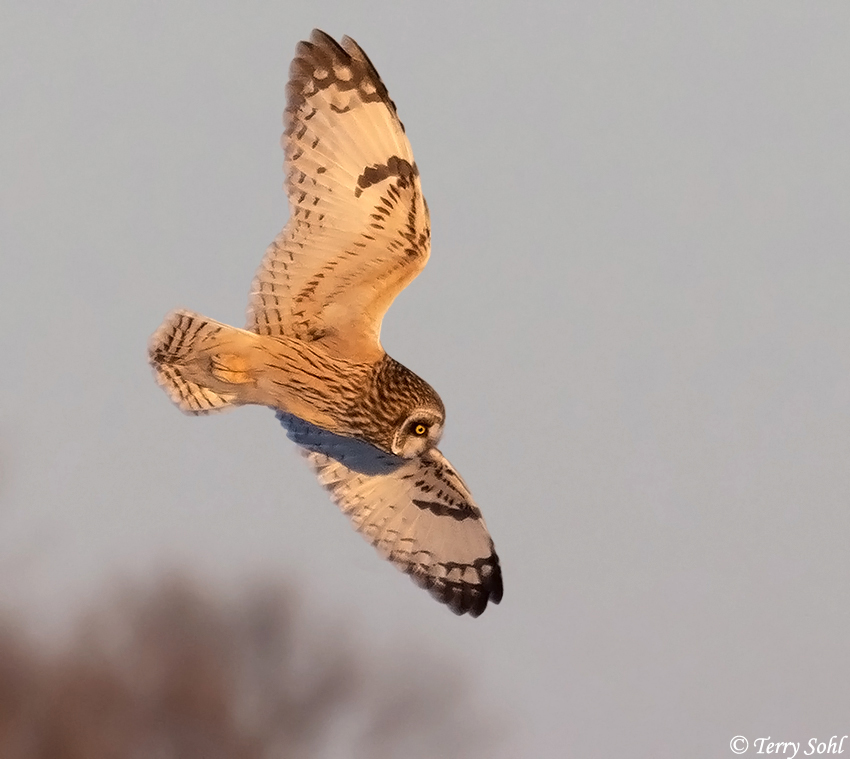 Click here for more information on this species
All photos copyrighted! Click for information on commerical usage, or usage for other personal purposes.
Please email if you'd like to order a print of these photos
Use the following Google dialogue to search this South Dakota Birds and Birding site:
Custom Search
SOUTH DAKOTA BIRDS AND BIRDING - LOCATIONS OF WEBSITE VISITORS
Please mail any comments/suggestions/additional links for this page to: Terry L. Sohl