Roseate Spoonbill
Platalea ajaja
I had never been in Florida since I started birding in 2000, until I took a trip in December, 2012 to Miami for a work conference. Knowing how close I was to Everglades National Park, I was itching for a chance to do some birding, so extended my trip (on my own dime, of course), and birded for a couple of days in southern Florida. What a treat! Birding in southern Arizona is my favorite thing in the world to do, as it opens up possibilities for so many birds a South Dakota guy doesn't normally see, and birding in Florida was very much the same experience. Some birds I hadn't seen before are downright common down there, birds like the White Ibis that most people probably think of like they think of House Sparrows. Others were much less common and true southern specialties, including the wonderful Short-tailed Hawk I saw and photographed, a species for which there are only thought to be about 500 in the United States.
There were some "target" birds I was hoping to see and photograph, including some of the large waders. I never did see any Limpkin, a species I have yet to see or photograph in my life, and toward the end of my trip was getting a little discouraged about finding some of the others as well. I had gone through the Everglades and had reached the very southern tip of the park when I finally ran across a group of Roseate Spoonbills feeding in the shallows. The lighting wasn't good, as it was a gloomy, gray day. I had a hard time getting close enough for photos. This may not be my greatest photo from a technical or artistic standpoint. But this photo is special to me because in my mind, it represents that wonderful Florida trip.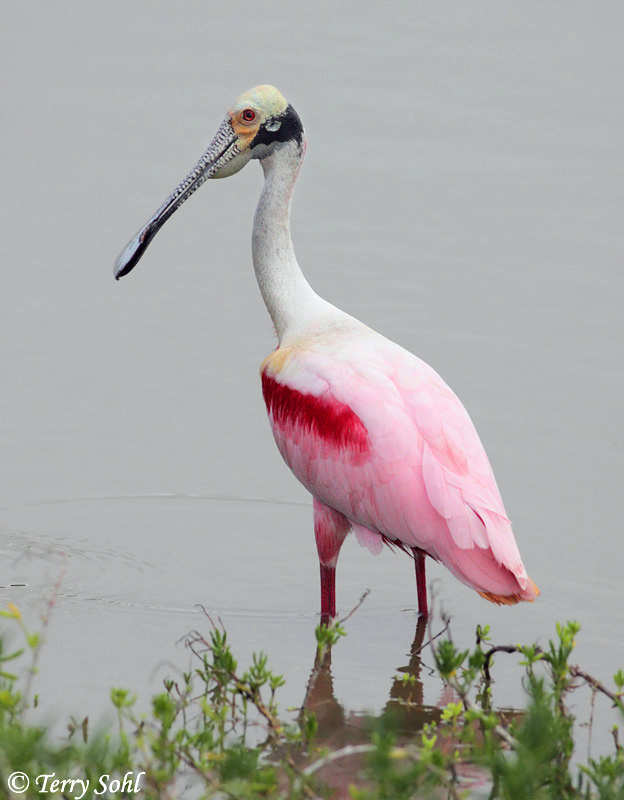 Click here for more information on this species
All photos copyrighted! Click for information on commerical usage, or usage for other personal purposes.
Please email if you'd like to order a print of these photos
Use the following Google dialogue to search this South Dakota Birds and Birding site:
Custom Search
SOUTH DAKOTA BIRDS AND BIRDING - LOCATIONS OF WEBSITE VISITORS
Please mail any comments/suggestions/additional links for this page to: Terry L. Sohl