Prairie Falcon
Falco mexicanus
Prairie Falcons are a species I see relatively often during the winter months. They're found in the far western part of the state in all seasons, but in winter, they move eastward onto the grasslands in the central part of the state, one of my favorite places to bird that time of year. However, they're usually quite wary, taking flight before you can get anywhere close to photo range. In January 2019, I wasn't working because of the 5-week government shutdown, so I did quite a bit of birding. I was out on the Fort Pierre National Grasslands when I saw a Prairie Falcon perched on a telephone pole in the distance. I half-heartedly readied the camera as I approach, fully expecting him to fly away when I got closer. He didn't disappoint me, as he did indeed take flight when I got closer. However, when taking flight, he spooked the prey he was watching...a large flock of Lapland Longspurs and Horned Larks that were gathered in the nearby field. As he took flight, so did they. He forgot about the guy in the car who disturbed him, and instead veered towards the spooked flock. As I got out and watched the action, the flock flew towards me and over the road...followed by the Prairie Falcon! Easily the closest I've been to a wild Prairie Falcon, and I was absolutely thrilled to grab this shot as he flew over, giving me a nice stare as he went by.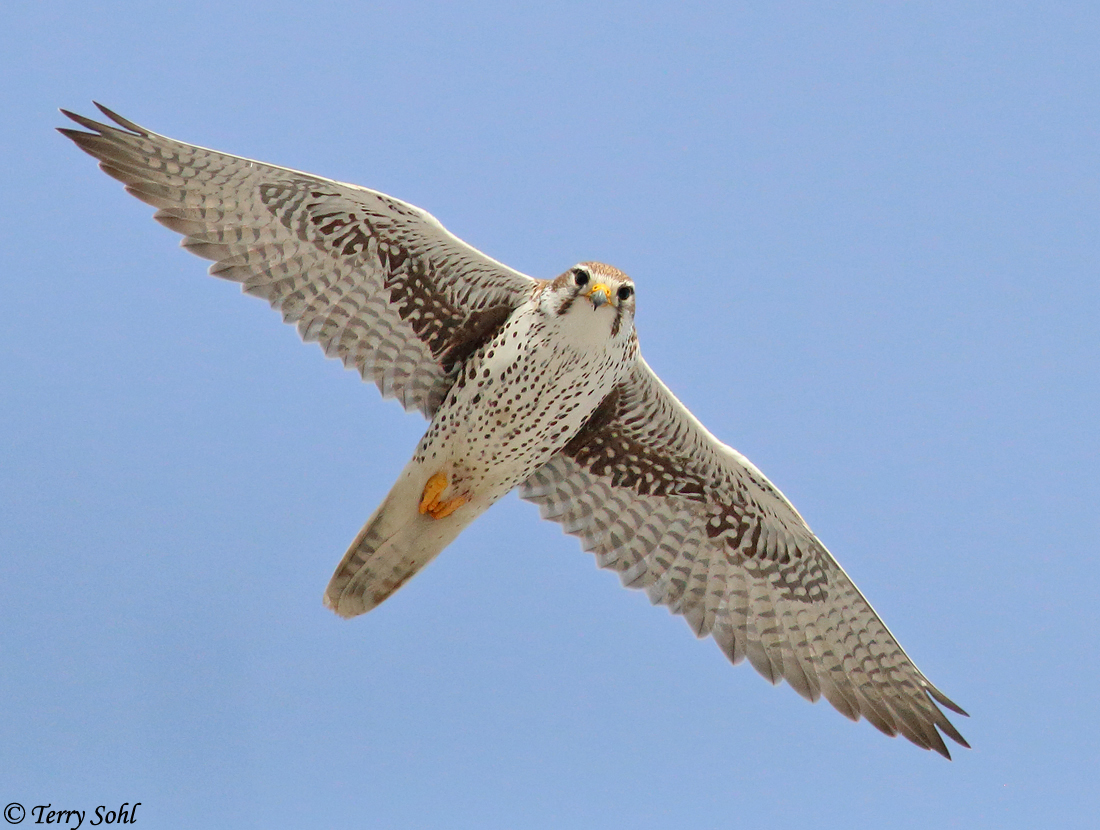 Click here for more information on this species
All photos copyrighted! Click for information on commerical usage, or usage for other personal purposes.
Please email if you'd like to order a print of these photos
Use the following Google dialogue to search this South Dakota Birds and Birding site:
Custom Search
SOUTH DAKOTA BIRDS AND BIRDING - LOCATIONS OF WEBSITE VISITORS
Please mail any comments/suggestions/additional links for this page to: Terry L. Sohl