Osprey
Pandion haliaetus
Have you ever had that dream where you're a fish? Where you're happily swimming in your little stream...but you feel like you're been watched? OK...no, I've never had that dream either, but IF I had that dream, it would probably include a site such as this. I was birding near Gavin's Point Dam along the Nebraska / South Dakota border in October of 2007, and was watching a number of gulls in the spillway below the dam. I saw an Osprey moving up the river towards the spillway, and got my camera ready as he got closer...and closer...and closer. He was stopping periodically to do what Ospreys do...hover a bit over a spot, looking for a fish to capture. He was rather oblivious to the fishermen (and the birder) on edge of the spillway, and eventually was hovering almost directly above me, as he scanned the water below for fish. Certainly the best look I've ever had at an Osprey, and a photograph that's probably the stuff of nightmares to the local fish.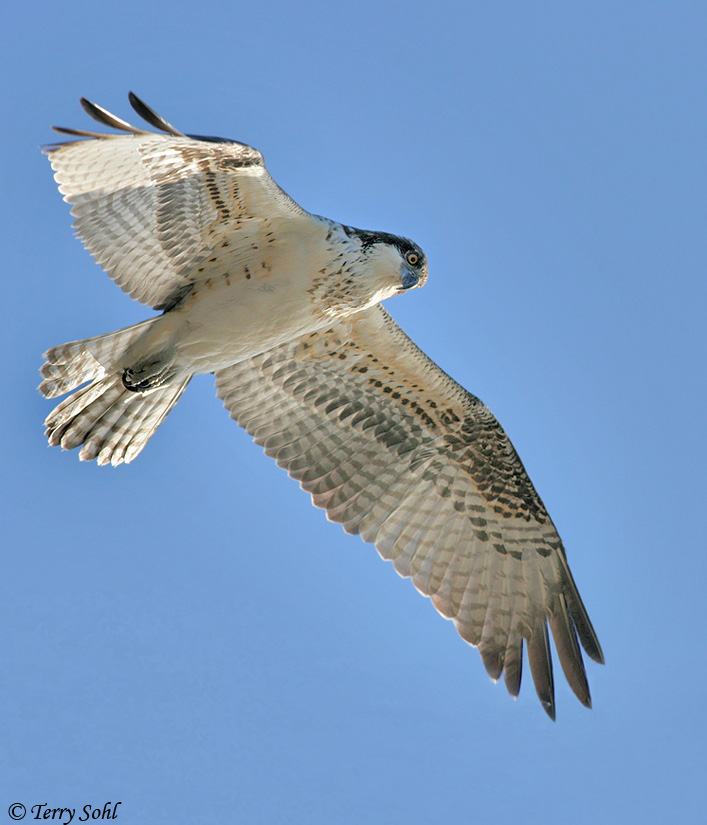 Click here for more information on this species
All photos copyrighted! Click for information on commerical usage, or usage for other personal purposes.
Please email if you'd like to order a print of these photos
Use the following Google dialogue to search this South Dakota Birds and Birding site:
Custom Search
SOUTH DAKOTA BIRDS AND BIRDING - LOCATIONS OF WEBSITE VISITORS
Please mail any comments/suggestions/additional links for this page to: Terry L. Sohl