Northern Cardinal
Cardinalis cardinalis
Two for the price of one! Northern Cardinals are everybody's favorite. For me they're a fave in that they're the one, vibrant splash of color I get at my feeders during a long South Dakota winter. I have a few photos of them I really love, including these two. The first was taken at the Big Sioux Recreation Area, a State Park across the street from our house. It was a gorgeous, later afternoon on a relatively warm November day. The warm lighting, the fallen leaves, and the little head-turn towards the camera made it an instant favorite for me.
The second photo is another favorite Northern Cardinal shot, but it's a bit of a depressing one as well. The photo was taken on "Ditch Road", a gravel road north of Sioux Falls that has a long, straight drainage ditch immediately next to the road. the area around the ditch USED to be covered by trees and shrubs. The near constant flowing water in the engineered ditch, plus the thick trees and shrubs, made it a wonderful place to find songbirds, particularly during migration. That all ended when Minnehaha County came through and removed literally ALL the vegetation between the ditch and the road, in the name of "safety". Can't have a driver go off the road and hit a tree! Although I thought the point of driving was to stay on the road....
Nonetheless, two of my favorite photos.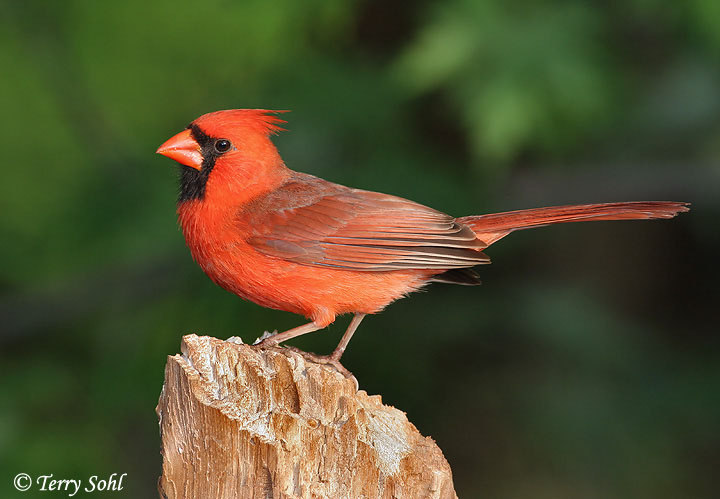 Click here for more information on this species
All photos copyrighted! Click for information on commerical usage, or usage for other personal purposes.
Please email if you'd like to order a print of these photos
Use the following Google dialogue to search this South Dakota Birds and Birding site:
Custom Search
SOUTH DAKOTA BIRDS AND BIRDING - LOCATIONS OF WEBSITE VISITORS
Please mail any comments/suggestions/additional links for this page to: Terry L. Sohl