Lake Louise - "Teahouse Hike"
During a vacation to Banff National Park in Canada in July of 2016, one of the highlights was going to Lake Louise, and doing the "Teahouse" hike. Lake Louise itself is a madhouse, with unbelievable crowds. Leading up from the hotel however, is a hike of 5 or 6 miles that goes up the valley to a rustic teahouse, where you can indeed have tea and a meal. Given the crazy crowds at the Lake itself, the hike is much quieter, although definitely busier than most trails in the area. There's no way up to the teahouse other than the trail, and that includes for people bringing supplies up the valley. Horses bring supplies up, and also cater to some tourists. As we were coming back down from the Teahouse, we ran into a group bringing tourists and supplies up to the teahouse. Definitely the memory that sticks with me when I remember this gorgeous day and wonderful hike.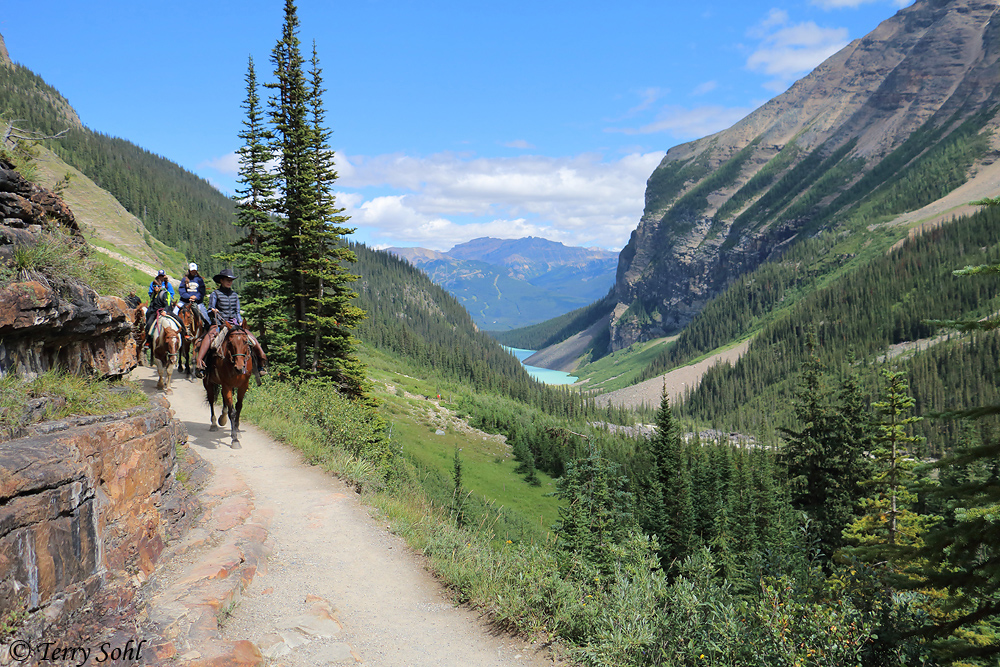 All photos copyrighted! Click for information on commerical usage, or usage for other personal purposes.
Please email if you'd like to order a print of these photos
Use the following Google dialogue to search this South Dakota Birds and Birding site:
Custom Search
SOUTH DAKOTA BIRDS AND BIRDING - LOCATIONS OF WEBSITE VISITORS
Please mail any comments/suggestions/additional links for this page to: Terry L. Sohl